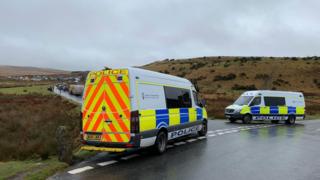 Police blocked off roads to shut down an illegal rave involving hundreds of people.
The rave at Cadover Bridge on Dartmoor, Devon, was reported on Friday morning.
Two people have been arrested and hundreds of cars were found parked near stages set up in a quarry, police said.
Officers also found stolen nitrous oxide canisters and a large amount of waste, including human excrement, in the surrounding area. Closed roads have since reopened.
Sgt Rob Wilson, from Devon and Cornwall Police, said it was a large-scale illegal party and "not a place for a peaceful post-Christmas dog walk".
Ch Supt Matt Longman said the force had been concerned for "both for the people in attendance and the impact on the local community."
Police said they had arrested an 18-year-old man, from Wilshire, for possession of Class A and C drugs and a 27-year-old man, from Kingskerswell, Devon, for driving under the influence.
There was also a minor single-vehicle crash at the site of the rave but no one was injured, officers added.
South West Ambulance said it treated a patient at the rave in the early hours of Friday morning for minor injuries.
Original Source