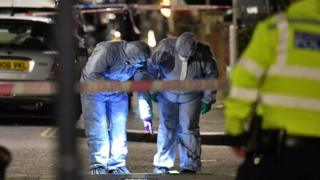 A man has been stabbed to death in Finsbury Park, north London, prompting a murder investigation.
The victim, a man in his 30s, was found on Charteris Road, close to the junction with Lennox Road, shortly before 19:00 GMT.
The Met Police said he was pronounced dead less an hour later and no arrests had been made.
The victim was a food delivery moped rider, according to friends gathered close to the scene.
Delivery riders gathered in nearby Stroud Green Road said the dead man had been the victim of a road rage attack following an argument with a car driver.
One said the victim was a 30-year-old Algerian known as "Taki", although he was unsure of the English spelling.
A friend of the deceased told PA news agency: "He was a good man. He doesn't make any trouble – he works and he goes home and he ends up being killed while he's working."
He added: "Its not safe to work by yourself anymore – what can you do? If someone comes at you with a knife you give them what you have or they are going to stab you."
Another 23-year-old rider, who gave his name as Paul, said: "Taki was a nice guy. He was a gentleman.
"I would talk to him everyday. He always said hello."
Last year, 90 people were stabbed to death in London, according to police statistics.
Original Source