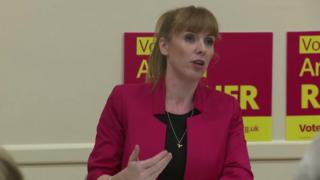 Shadow education secretary Angela Rayner has announced she is joining the contest to replace Tom Watson as Labour's deputy leader.
She is the fourth Labour MP to declare her intention to run, alongside Richard Burgon, Dawn Butler and Khalid Mahmood.
Ms Rayner said Labour now faced a stark choice following December's heavy election defeat – "win or die".
The rules for the deputy and leadership contests will be decided at a meeting of the party's ruling body later.
Clive Lewis, Lisa Nandy, Jess Phillips, Sir Keir Starmer and Emily Thornberry have formally entered the race to replace outgoing leader Jeremy Corbyn.
Shadow business secretary Rebecca Long Bailey, who is a friend and flatmate of Ms Rayner, is also expected to join the main contest soon.
Launching her deputy leadership bid in Stockport, Ms Rayner said Labour's defeat last month had left the party facing its "biggest challenge in our history".
She said Labour needed to find a "new kind of coalition" to regain power, and needed to "win back" former supporters who had deserted the party.
She said Mr Corbyn's leadership had been a factor in the party's poor performance, but also blamed the election strategy, saying its list of target seats had proved to be "wide of the mark".
"Seats where we suffered catastrophic defeats were seen as secure, while we tried to fight 'target' seats we had effectively already lost. It cannot happen again."
And she continued: "The quick fix of a new leader will not be enough. We must rethink and renew our purpose and how we convince the people to share it.
"Either we face up to these new times or we become irrelevant. The next five years will be the fight of our lives."
Endorsements
Ms Rayner said she would back Ms Long Bailey if she stood for the top job, adding that she wanted the leadership of the party to be a "team effort".
After the launch, Ms Long Bailey tweeted that she would be lending her "full support" to her "good friend" Ms Rayner in her pitch for the deputy's post.
Ms Rayner also unveiled a list of other Labour MPs backing her candidacy, including shadow trade secretary Barry Gardiner – seen as a potential contender himself – and senior colleagues Louise Haigh and Jonathan Reynolds.
Ms Rayner became shadow education secretary in June 2016, just over a year after she became MP for Ashton-under-Lyne in Greater Manchester.
After leaving school aged 16, she became a care worker and representative for the Unison union before entering Parliament. She has previously described herself as being on the "soft left" of the party.
At her launch she also called for the party to draw a "line in the sand" over the issue of anti-Semitism within its ranks, so it could "regain the moral authority" to unite the country against racism.
The party, she added, needed to "educate where there is ignorance" and "remove bigotry wherever it is found".
Ruling body meets
Under current rules, would-be candidates for both the deputy leader and leader roles must first be nominated by more than 21 Labour MPs or MEPs.
They must also secure nominations from at least 5% of Labour's constituency parties or three affiliated bodies – two of which must be trade unions.
The cut-off point for people to join or re-join the party will be a key issue to be decided at Monday's meeting of Labour's ruling body.
The National Executive Committee (NEC) will also decide on timings, with winners expected to take their posts before English council elections in May.
'Brutality and hostility'
Former deputy Tom Watson announced he was stepping down from his role and would not stand as an MP before last month's general election.
Mr Watson was elected deputy leader in 2015, on the same day that Mr Corbyn won his own ballot to run the party.
However, the pair came from different wings of the party and were often at odds on a number of issues, notably over the party's position on Brexit.
Mr Watson has since said he faced "political factionalism" and "brutality and hostility" within the party during his time in post.
Original Source