Iran's supreme leader, Ayatollah Ali Khamenei, has publicly wept presiding over a vast public funeral procession in Tehran for Qassem Suleimani, the powerful general killed by a US drone strike in Baghdad on Friday.
Khamenei's voice cracked with emotion as he recited prayers over the casket of Suleimani, the commander of the Revolutionary Guards' elite Quds Force, as well as others killed in the attack, which has drastically raised tensions between Tehran and Washington.
Roads across the city were blocked by heavy traffic as hundreds of thousands of mourners thronged the area around Tehran University before the procession made its way towards Azadi (Freedom) Square on Monday morning.
State media said millions of people had poured on to the streets of the Iranian capital. The scale of the crowds shown on television appeared to be the biggest since the funeral in 1989 of the founder of the Islamic Republic, Ayatollah Ruhollah Khomeini.
Ismail Haniyeh, the leader of the Palestinian militant group Hamas, also made a surprise visit to Tehran for the ceremony, where he described Suleimani in his address as the "martyr of Jerusalem".
The coffins of Suleimani and the Iraqi militia leader, Abu Mahdi al-Muhandis, who was also killed in Friday's attack, were draped in their national flags and passed from hand to hand across the heads of mourners.
Many Iranians considered Suleimani, who was a decorated veteran of the eight-year war with Iraq, a national hero. He was widely seen as the second most powerful figure in Iran after Khamenei.
Signs posted around the area showed the faces of Suleimani and Khamenei with the words "Harsh revenge is awaiting", echoing comments by Iranian military and political leaders.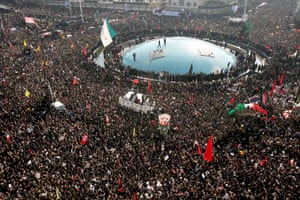 "Many countries owe their existence to [Suleimani]," said an older man, as funeral verses blared from loudspeakers. "Syria, Iraq and Yemen would collapse without him."
Another man marched with a placard reading: "Be mute the tongue that talks about negotiating with the USA."
Women wept and mourners shouted "neither mediation, nor surrender" as groups of uniformed security officers and secret service agents weaved their way through the crowd.
A petition circulated through the streets asking for names and phone numbers read: "I am ready for jihad at any moment and awaiting my leaders' orders."
Donald Trump has said the US military had drawn up a list of 52 targets, the same number of US embassy hostages held for 444 days after the Iranian revolution, that he said would be hit if Americans or US assets were attacked in revenge over Sulemani's killing.
Trump, whose administration has imposed new sanctions on Iran since 2018 over its nuclear ambitions and other activities via proxies in the region, said the targets included cultural sites. His comments have drawn criticism from his US political opponents.
In Tehran, Zeinab Suleimani, the commander's daughter, said in her address to mourners: "America and Zionism should know that my father's martyrdom will lead to awakening … in the resistance front and bring about a dark day for them and flatten their homes."
Iran usually refers to Israel as the Zionist state and describes regional countries and other forces opposed to Israel and the US as a "resistance" front.
"Crazy Trump, don't think that everything is over with my father's martyrdom," she said.
One of the Islamic Republic's major regional goals, namely to drive US forces out of neighbouring Iraq, came a step closer on Sunday when the Iraqi parliament backed a recommendation by the prime minister for all foreign troops to be ordered out of the country.
"Despite the internal and external difficulties that we might face, it remains best for Iraq on principle and practically," said the Iraqi caretaker prime minister, Adel Abdul Mahdi, who resigned in November amid anti-government protests.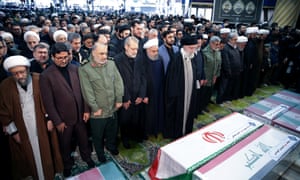 Iraq's rival Shia leaders, including those opposed to Iranian influence, have united since Friday's attack in calling for the expulsion of US troops.
Esmail Qaani, the new head of the Quds Force, the Revolutionary Guards' unit in charge of activities abroad, said Iran would continue Suleimani's path and said "the only compensation for us would be to remove America from the region".
Adding to tensions, Iran said it was taking another step back from commitments under a 2015 nuclear deal with six major powers, a pact from which the US withdrew in 2018.
Washington has since imposed tough sanctions on Iran, describing its policy as "maximum pressure" and saying it wanted to drive down Iranian oil exports – the main source of government revenues – to zero.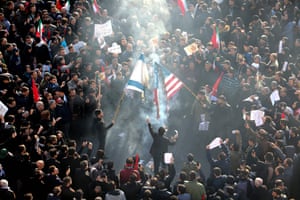 Talking to reporters onboard Air Force One on the way to Washington from Florida on Sunday, Trump stood by his remarks to include cultural sites on his list of potential targets, despite drawing criticism from US politicians.
"They're allowed to kill our people. They're allowed to torture and maim our people. They're allowed to use roadside bombs and blow up our people. And we're not allowed to touch their cultural sites? It doesn't work that way," Trump said.
Original Source