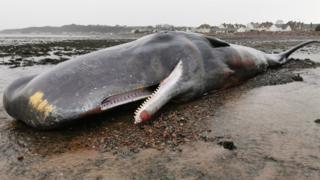 A sperm whale has died after stranding close to a shore of the Moray Firth in the Highlands.
The animal, thought to be a male up to 20m (66ft) in length, got into difficulty at Ardersier near Inverness.
Members of the Scottish Marine Animal Strandings Scheme and British Divers Marine Life Rescue were at the scene.
In August 2008, a 12m (40ft) adult sperm whale died after stranding in shallow water in the Moray Firth at Arturlie Point close to Inverness.
The Coastguard was alerted to the latest stranding at about 09:00.
Scottish Marine Animal Strandings Scheme (SMASS) said the animal died at about 11:30.
The whale was believed to be an adult male weighing about 25 tonnes.
A spokeswoman for British Divers Marine Life Rescue (BDMLR) said: "Unfortunately because it is a sperm whale there is often not a lot we can do in these situations.
"They are a deep water species and their bodies can't cope with being stranded. After about two hours out of the water the damage is irreparable."
Dr Andrew Brownlow, of Scotland's Rural College's Scottish Marine Animal Strandings Scheme, said it was a "tragic situation".
He said: "With animals of this size there is no hope for them to be refloated and unfortunately no method for euthanising the animal."
Dr Brownlow said sperm whales are found in deep waters off the north of Scotland and Norway and travel south from there to feed and breed around the Azores.
He said whales that get "lost" on those journeys can get into difficulty in North Sea and Moray Firth where there is not enough food for them, and it is harder for the animals to navigate.
The scientist said the whale looked to be "thin" and in poor condition.
A post mortem examination is due to be carried out on the beach on Wednesday, before arrangements are made to dispose of the whale.
Volunteers from Whale and Dolphin Conservation, the Coastguard along with Army personnel from nearby Fort George provided assistance at the scene of the stranding.
Sperm whales are one of the world's deepest diving mammals.
Males can grow to more than 18m (59ft) in length and females to more than 12m (40ft).
There have been successful rescues of large whales in Scotland.
In January last year, a whale spotted in difficulty in Loch Eribol near Durness in Sutherland managed to get itself free. It was thought to have got stuck on a sand bar.
And in January 2016, a humpback whale was freed from fishing gear used to catch prawns in Loch Eriboll.
The 12m-long animal had become entangled in creels.
Members of BDMLR managed to free the mammal from the ropes and guided it to safety.
Original Source