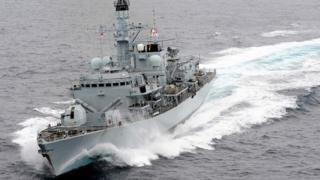 The UK has put the Royal Navy and military helicopters on standby in the Middle East amid rising tensions, Defence Secretary Ben Wallace has said.
The government was putting in place "urgent measures" to protect British nationals and interests in the region, Mr Wallace told the House of Commons.
He said non-essential UK personnel had also been moved out of Baghdad.
His statement comes in the wake of the US assassination of Iranian general Qasem Soleimani in Iraq on Friday.
Mr Wallace, answering questions from MPs on the growing crisis, reiterated the government's calls for all sides to "de-escalate".
He said the Department for Transport was reviewing its advice to British shipping on a daily basis, while "a small team" had been sent to the region to provide assistance with "situational awareness and contingency planning".
When asked about the prospect of a UK military strike on Iran, he said he was "not going to rule out anything".
He said if British citizens or armed service personnel were killed by Iranian actions the UK's response "would no doubt be proportionate".
"The UK will do what it has to do to defend its persons, its citizens and wherever it needs to do that. That is our duty."
Asked by Labour MP Chi Onwurah about the risks of the UK's "unquestioning" support of President Donald Trump – who ordered the drone strike – Mr Wallace said the support was "not unquestioning at all".
He added: "We are friends and allies but we are also critical friends and allies when it matters."
Labour leader Jeremy Corbyn accused Prime Minister Boris Johnson of "hiding behind his defence secretary" by not making the Commons statement himself.
Mr Corbyn said that the US killing of Soleimani amounted to "an illegal act" and now what was urgently required was "dialogue preferably through the UN".
He said it was "very odd" that the prime minister "couldn't be bothered to come and answer questions" in Parliament on the matter.
Responding, Mr Wallace said: "This prime minister actually believes in a cabinet government and letting the members of the cabinet who are responsible for the policy come to the House to be able to answer the questions around the policy matter."
Ministers have been chorusing the case for constraint and there is a lot of talking going on.
The defence secretary and the foreign secretary have been in touch with their counterparts in the region and in Europe and Boris Johnson has been on the phone to President Trump and to the Iraqi leadership.
But he hasn't spoken publicly and he was conspicuous by his absence in the Commons today, which laid him open to mockery and accusations of weakness from Mr Corbyn.
The official line is ministers are being left to do their job. Senior Conservatives point out that past prime ministers tended to be front and centre when dealing with a crisis on this kind of scale.
And when you remember how President Trump didn't just fail to inform London but didn't consult them on what he did when it came to this attack you can see where a lot of this criticism is coming from.
In other developments:
Mr Wallace said the UK was working with European allies to "reboot" the Iran nuclear deal abandoned by the US
Asked about the case of Nazanin Zaghari-Ratcliffe, who has been in prison in Iran since 2016, he said the government would do everything it could to try to get her released, adding that efforts were continuing on an "almost daily basis"
The prime minister spoke to Turkish President Recep Tayyip Erdogan by phone about the situation, agreeing that Iran could not be allowed to acquire a nuclear weapon
The National Security Council was also meeting on Tuesday to discuss the growing crisis
Original Source