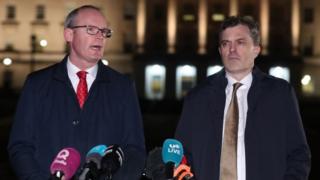 The British and Irish governments have published the text of a draft deal aimed at restoring power sharing in Northern Ireland.
Secretary of State Julian Smith and Tánaiste (Irish Deputy Prime Minister) Simon Coveney made the announcement at a press conference at Stormont on Thursday evening.
Thursday marks three years exactly since devolution collapsed in Northern Ireland.
If agreed, the deal, entitled New Decade, New Approach, will see the assembly reconvene on Friday.
Mr Smith, who has written to the assembly speaker asking him to convene a sitting on Friday, said the deal will transform public services and restore public confidence in devolved government.
He asked all parties to support it, saying: "Now is decision time, there is something in this deal for everyone."
The secretary of state also said the deal would allow for nurses to get pay parity with the rest of the UK.
Health workers across Northern Ireland have been staging industrial action in protest against pay and staffing levels which they say are "unsafe".
Mr Coveney said the path that led to this point had taken longer than many people thought.
He added: "Forget win or lose… this is a deal full of compromises."
He also said the politicians need to "step up and fully represent their citizens".
Original Source