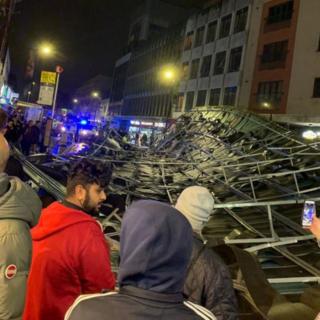 A large section of a roof was blown off a block of flats in Slough as Storm Brendan hit the town.
The roof is strewn across the high street and people have been warned to avoid the area.
The road is closed and emergency services are at the scene, though Thames Valley Police said no-one was believed to be injured.
A taxi driver who narrowly missed being hit by the debris said it was "a miracle no-one was killed".
The UK has seen gusts of more than 80mph, with the Met Office issuing a number of weather warnings.
Taxi driver Haris Baig, 30, from Slough, said his car was only metres away from being hit by the falling roof.
"At first I thought it was scaffolding, but then I realised the whole roof had come down," he said.
"There was a massive amount of noise.
"I was about 15 metres away and slammed on my brakes. I got out to see if everyone was alright.
"That was my first reaction, but at the same time I was thinking is this even safe?"
"It was a disaster. It was a miracle no-one was killed," he added.
'Supporting residents'
Housing provider Paradigm said it was "aware of an incident" affecting one of its properties, and that staff were "working with the emergency services and supporting residents".
Slough MP Tan Dhesi called it a "major incident" and asked people to "stay away".
Slough Borough Council said it had specialist officers on the scene and that there was heavy congestion in the area.
A spokesman for Royal Berkshire Fire and Rescue Service said three fire engines were at the scene and that it was not "not aware of anyone trapped" under the roof.
"The roof has come off in the wind. The current situation is trying to make the scene safe," he said.
He added that the fire service was not "100% sure" if anyone was still in the damaged building.
In a statement on Twitter, Thames Valley Police said officers did not believe anyone had been seriously injured and thanked those affected for their patience.
Original Source