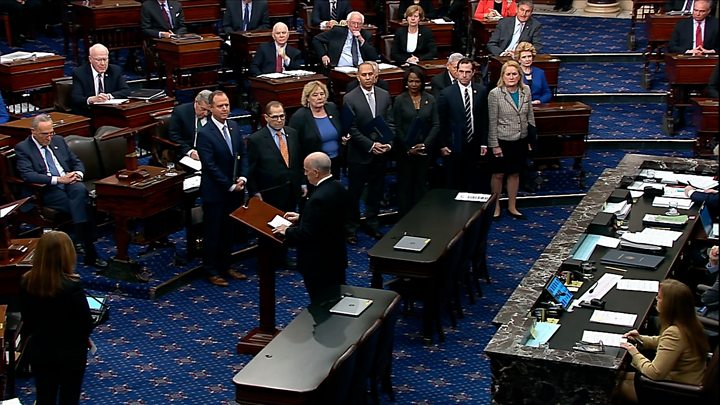 US House of Representatives Speaker Nancy Pelosi has warned Republicans not to become "the president's henchmen" as the Trump impeachment trial began.
Mrs Pelosi renewed her call for fresh evidence and witnesses to be admitted in the forthcoming hearings.
Pre-trial proceedings have begun with the charges being formally read aloud to the Senate.
Donald Trump is the third US president ever to be impeached, but the previous two were not removed from office.
He is accused of abuse of power and obstruction of Congress, and brands the case against him as a politically motivated "hoax".
Speaking at her weekly press conference on Thursday, Mrs Pelosi said: "I hope that the senators do not become part of the president's henchmen."
She spoke shortly before the trial of the president got underway in the US Senate, which is controlled by the president's fellow Republicans.
The articles of impeachment were read out on the floor of the chamber by lead prosecutor Adam Schiff.
The Democratic congressman said no president had ever sought to impede an impeachment investigation so thoroughly.
Mr Schiff is one of seven impeachment managers who will make the case against the president.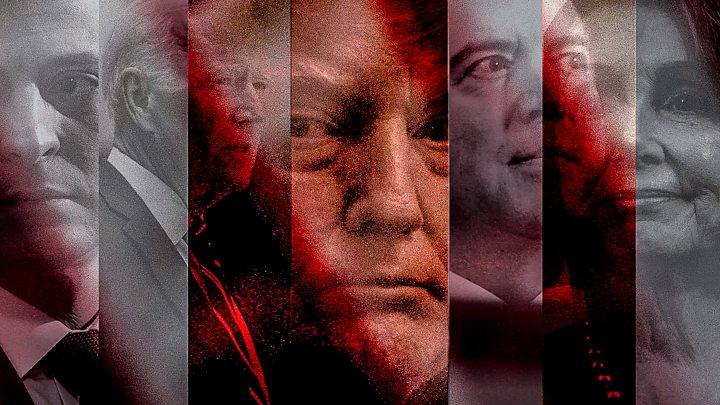 Senator Susan Collins, a Maine Republican who is facing a tough re-election bid this year, was seen wiping away tears from her face as the charges were read.
Supreme Court Chief Justice John Roberts was sworn in as presiding judge, before administering an oath to all 100 senators to deliver "impartial justice" as jurors.
Mr Trump's defence team has not been formally announced, but White House lawyers Pat Cipollone and Jay Sekulow have been tipped to lead it.
The House officially handed over the impeachment proceedings on Wednesday, when Mrs Pelosi signed the articles of impeachment and they were walked across the Capitol in a procession and delivered to the Senate.
Republicans have criticised Mrs Pelosi over the signing event, mocking her for handing out commemorative pens decorated with her signature.
Republican Senate leader Mitch McConnell said on Thursday, before trial proceedings began: "Nothing says seriousness and sobriety like handing out souvenirs as though this were a happy bill signing instead of the gravest process in our Constitution."
Opening statements in the trial are expected next Tuesday.
The trial is still likely to be under way next month when Iowa and New Hampshire hold the first party votes to pick the eventual Democratic presidential candidate who will take on President Trump in November's election.
Three of the candidates, Bernie Sanders, Elizabeth Warren and Amy Klobuchar, are US senators and will have to drastically scale down campaigning to attend the trial.
Two other leading contenders, Joe Biden and Pete Buttigieg, plan to capitalise on their rivals' diversion by blitzing Iowa in the last few days before the crucial 3 February vote in that state.
Want to find out more?
Original Source