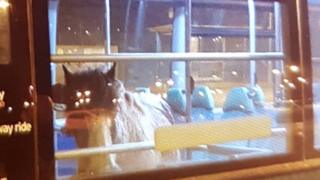 There was no foaling around for a horse on the loose on a busy city road after rescuers managed to get it to safety on a bus.
The animal was wandering on the A48 in Cardiff on Thursday evening, causing some motorists to pull over to help.
Harley Stephens, who helped rescue the horse, said it happily "trotted" onto the Cardiff Bus.
It was then taken on a ride to safety and was reunited with its owners, police said.
Ms Stephens said: "It was crazy. I still can't believe it".
"I used to ride horses in Cardiff Riding School, but I have not loaded a horse into a horse box or a trailer, let alone a bus, it was quite a novel experience."
She told BBC Wales she and her friend had been driving home when they spotted the horse near the central reservation of the road in the middle of "fast traffic".
She said it was shaken up and they managed to stop traffic and calm the animal with the help of some "lovely" passers-by and then a bus stopped.
"The police arrived and we were all a bit flummoxed of what to do because we couldn't get a horse box there in time," she said.
She said the Cardiff Bus driver suggested putting it on a bus, so they put the disabled ramp down and "it went on quite happily".
Accompanied by Ms Stephens the horse was then taken to the hospital Park and Ride stop, with one other passenger sitting close by.
"He was quite chill about it," she said.
There someone said they would help to reunite it with its owner – but not before Ms Stephens said her goodbyes, had photos taken, and had it named after her.
"He had a nice little five minute drive on the bus, it was crazy, even the police officer said "I need to take photos as I don't think anyone will believe me".'
South Wales Police said the horse was collected by its owners at around 20:00 GMT after being contacted by the local horse warden.
The force was first called about the animal on the road at about 18:30 GMT and tweeted to say the road had been closed while the horse was helped.
"A loose horse on the 'mane' A48 Eastern Ave decided it wanted to 'stirrup' a little trouble but in doing so it risked falling 'foal' of the law," the force said.
Cardiff Bus tweeted to say: "Thankfully the bus is back in its stable, but awaiting a clean.
Original Source