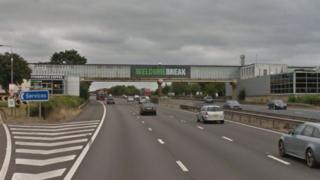 A six-year-old boy who went missing at a service station on the M1 motorway has been found safe and well.
A police search for Aadil Umair Rahim at Newport Pagnell services, near Milton Keynes, went on for more than nine hours.
A Thames Valley Police helicopter was deployed during the search, which began at about 19:15 GMT on Friday.
The child's father said he was "thankful to everyone" who worked "tirelessly" for their help.
Officers found Aadil safe and well at about 04:15 and reunited him with his family.
'Difficult operation'
Umair Rahim wrote: "My son has arrived and he is safe now. Thanks for the prayers. Shukar to Allah.
"Thank you to Thames Valley Police helicopter services fire department, and safe and rescue department who worked tirelessly for 9 hours and found him safe.
"There was more than a 1,000 people looking for him I'm thankful to everyone."
Supt Amy Clements, said: "This was a very difficult operation involving a very young boy and we are relieved to say that Aadil has been found safe and well.
"I'd like to take this opportunity to thank the local community, who immediately offered help in trying to find Aadil.
Original Source