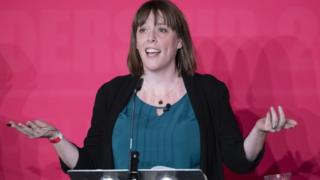 Jess Phillips has dropped out of the Labour leadership contest, leaving four candidates in the race to succeed Jeremy Corbyn.
In a video message to supporters, the Birmingham Yardley MP said the next leader had to be able to unite the whole Labour movement.
Ms Phillips said she had to "be honest" with herself – "that person is not me."
Meanwhile, Lisa Nandy's campaign has received a major boost after she won the backing of the GMB union.
The organisation also backed Angela Rayner to be the next deputy.
Announcing its decision to endorse Ms Nandy, the union's general secretary, Tim Roache, said she was "a breath of fresh air in the debate over Labour's future", and "got the scale of the challenge" facing the party after its fourth election defeat in a row.
The endorsement increases the chances of the MP for Wigan making it to the final stage of the contest – joining Sir Keir Starmer who has already qualified to get on the ballot.
Ms Nandy – who already has the support of the National Union of Mineworkers – said she could "not be more proud", and the next leader's challenge was to "recover our ambition and inspire a movement".
The other candidates still left in the leadership race are shadow business secretary Rebecca Long-Bailey – who has been tipped to get the backing of the Unite union later this week – and shadow foreign secretary Emily Thornberry.
Ms Phillips missed the hustings organised by the GMB earlier on Tuesday, prompting speculation that her campaign was in trouble.
She had yet to receive any nominations from trade unions, affiliate bodies or local parties.
Confirming her exit, the 38-year old said Labour needed a leader "who can unite all parts of our movement, the union movement, members and elected representatives".
"In order to win the country, we are going to have to find a candidate, in this race, who can do all of that, and then take that message out to the country. A message of hope and change, that things can be better."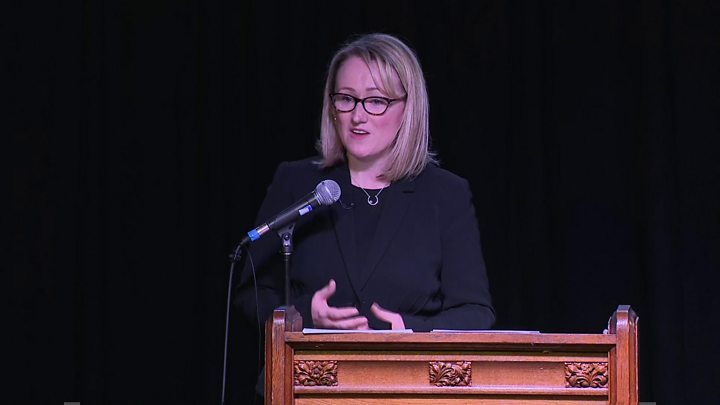 She thanked all those who had pledged their support for her, particularly Jewish members of the party who she said she would continue to stand up for.
"I will always speak out and I promise that we will change the problems in our party that we have seen. I'm going to go out into the country and join the fight back."
In a recent interview with LBC, Ms Phillips said if she couldn't be leader, she would support one of the other female candidates in the race.
'Keep our focus'
Sir Keir praised her "real courage" for standing, saying she would "play a huge part in the future of our party".
He added: "It's a shame to lose Jess but we keep our focus on where we go next."
Ms Nandy and Ms Thornberry also praised her contribution.
This is a very significant day in the Labour leadership contest – both for determining who is in and who is out.
Lisa Nandy is almost certainly going to be joining Sir Keir Starmer on the ballot.
She currently has no constituency nominations so could well have struggled without union support. But the GMB's general secretary, Tim Roache, told me his union had given her the "springboard" she needs.
And while she may lack name recognition, she doesn't lack talent.
Interestingly, too, the GMB endorsement came at a meeting in which every region of the UK was represented, and nearly twice as many delegates backed Ms Nandy as supported Sir Keir.
Jess Phillips has dropped out, but she says her encouragement for people to join Labour in order to change it has worked – tens of thousands of new members have come in, so she may yet have an influence on the result.
Her supporters are highly unlikely to back the most left-wing candidate, Rebecca Long-Bailey.
But Mrs Long-Bailey herself is likely to be on the ballot too if she can secure the backing of the influential Unite union on Friday.
When she entered the contest earlier this month, Ms Phillips called on those who wanted to change Labour's direction to join the party in their thousands.
She insisted she had the "big personality" to alter how Labour was seen by the public, but she criticised her own performance in the first members' hustings last weekend in Liverpool.
Labour MP Wes Streeting, one of Ms Phillips' supporters, said he was "gutted" by her withdrawal, but praised her "raw honesty" in accepting that she had not built the breadth of support required.
He suggested Sir Keir was the clear frontrunner, but there was a "Jess-shaped hole" in the contest waiting to be filled.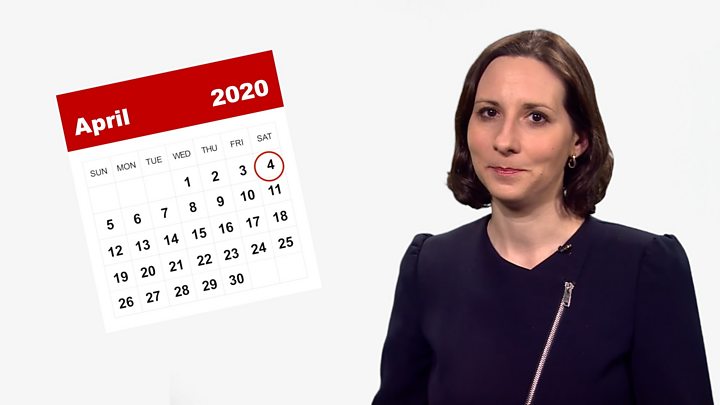 To make it to the final stage, the candidates have to secure nominations from 5% of constituency Labour parties (CLPs), or three affiliate groups – two of which must be trade unions – representing at least 5% of affiliated members.
Sir Keir cleared this hurdle after being backed by Unison, the UK's largest union, and a second union, Usdaw, as well as environmental campaign group Sera.
Meanwhile, Mrs Long-Bailey has said she is in favour of Labour MPs having to compete with other candidates if they want to continue representing their party at the next general election.
Outlining plans to "democratise" Labour, she said so-called open selection – whereby sitting MPs are not automatically re-adopted by their local branches but face challenges if they do not command enough support – would help nurture new talent.
"We need to rip up our outdated rule book that has held back our members for too long and throw open the door to a new generation of MPs and candidates," she is expected to say at a rally. "Being an MP or elected representative is a privilege that must be earned."
Mr Corbyn's successor – and the successor to his deputy, Tom Watson – will be announced on 4 April.
Original Source