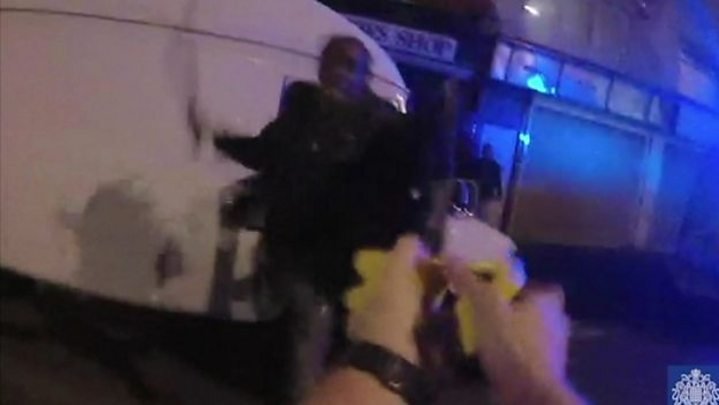 A van driver who repeatedly struck a police officer with a machete during a routine traffic stop has been found guilty of wounding with intent.
Muhammad Rodwan attacked PC Stuart Outten, 29, after he was pulled over in Leyton, east London, on 7 August.
The officer was badly injured and has yet to return to work.
Rodwan, 56, of Luton, had claimed he was acting in self defence. He was convicted of wounding with intent but found not guilty of attempted murder.
In a victim impact statement read out to the Old Bailey PC Outten said: "This incident has changed my life but I hope it has not changed the way I police."
Rodwan, who has previous convictions for rape and two other machete attacks, was also cleared by the jury of possessing an offensive weapon.
Mrs Justice Carr adjourned sentencing until Friday morning.
PC Outten suffered six blows to the head from a 2ft-long blade after stopping Rodwan's white van for having no insurance.
The defendant said he was not aware at the time that the insurance on his van had expired 12 days earlier.
Following the attack PC Outten said he counted himself "very lucky" to survive, saying "thankfully" his head was hard enough to withstand the onslaught.
He suffered six deep wounds to the head, exposing his skull, slash wounds to his arm, several broken fingers and three severed tendons in one hand.
Bleeding heavily from deep gashes to the head and arm the Met Police officer Tasered Rodwan twice before subduing him, the Old Bailey heard.
Rodwan told jurors he did not recall punching PC Outten before he was arrested.
In the struggle, the officer pulled some of Rodwan's dreadlocks out, which was "extremely painful", and grabbed his throat, he said.
"I could not breathe at all," Rodwan told his trial.
"It felt like he cracked my throat, squeezed so hard it felt like it was popping."
Rodwan said he retrieved his machete from the van but could not remember how many times he hit PC Outten with it before getting out.
He said: "I was just trying to hit him to get him away from me."
The defendant said he did not know Pc Outten had a Taser and had raised the machete up to "try to scare him away from me".
Graphic footage from the police officer's body worn camera showed Rodwan punching the officer before grabbing a sharpened machete as Pc Outten tried to arrest him.
Rodwan had claimed he had the machete in his van for his gardening work.
The jury was told the defendant had a conviction for rape in 1982.
And in 1997 at Snaresbrook Crown Court he was convicted of two offences of wounding with intent for an unprovoked machete attack on a tenant and his friend for which he was sentenced to nine years in prison.
At the time of his arrest last year, Rodwan gave a relative's address in Luton, Bedfordshire, but went on to tell jurors he slept in his van around Waltham Forest.
During his trial, Mrs Justice Carr ruled Rodwan's violent past was inadmissible despite jurors asking about previous convictions.
Det Ch Insp Nathan Munson, who led the investigation, said: "Rodwan was not acting in self-defence on that day – the number of blows, the force of the blows and targeted blows to PC Outten's head proved this.
"It is reassuring for Londoners to know this violent individual will be unable to cause harm to other members of the emergency services or the wider public."
Following the verdicts, Det Ch Supt Richard Tucker paid tribute to PC Outten, saying: "He did what I would hope the vast majority of police officers in the country would do.
"He had the training, he put that into action, notwithstanding he was very, very lucky that day and I'm very, very proud of Stuart.
"He did an amazing job to apprehend that individual."
According to figures from the Metropolitan Police, 5,900 officers and staff were attacked between January and December last year, compared to 5,700 in the period between November 2018 and October 2019.
A total of 45% involved some form of injury, and of those, 10% amounted to grievous bodily harm or grievous bodily harm with intent.
Original Source