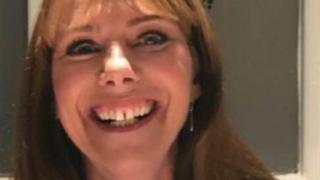 A dog walker who said she lost five pets in her care has been banned from keeping animals for five years.
Louise Lawford admitted four animal welfare offences relating to her business Pawford Paws in Birmingham.
Prosecutors rejected her claim the dogs ran off – but said they could not prove what happened and had to drop charges relating to the pets' disappearance.
She was called a "dog killer" by someone in the public gallery, which the judge described as "outrageous".
Birmingham Magistrates' Court heard Mrs Lawford, from Erdington, had been placed in a position of trust and left customers anguished.
The fate of the missing "Tamworth Five", Ralph, Charlie, Pablo, Maggie and Jack, which disappeared after a walk in Hopwas Woods near Tamworth on 23 June, remains a mystery.
Some of the pets' owners were in court to witness Mrs Lawford being sentenced.
"The dogs were never found, despite being chipped and there being extensive searches," said Jonathan Barker, prosecuting, adding he did not accept Mrs Lawford's account that the dogs got lost in the woods, but could not prove otherwise.
Speaking after the hearing, the dogs' owners – who say they "know" their pets are dead – said they would take civil action against Mrs Lawford.
"It's a positive outcome because the court just did not believe the dogs were lost," one owner Becky Parsons said. "It just doesn't make sense."
She said the past six months had been "an emotional rollercoaster" and that she was so upset at losing her dogs, Pablo and Maggie, that she "couldn't face going back" to her house and has had to move.
The case, brought by Birmingham City Council, has attracted much attention on social media, and Mrs Lawford was called a "dog killer" when she left court briefly before sentencing.
Analysis by Phil Mackie, BBC News correspondent
District Judge Joanna Dickens was right to describe this as a "very strange case".
The investigation began when the five dogs vanished, but criminal proceedings ended today and we still don't have any answers. What happened last June remains a mystery.
The dogs' owners are convinced they're no longer alive, and have their own theories about the circumstances, but we must wait until they bring a civil case against Mrs Lawford before we find to what they think happened.
The decision not to pursue charges relating to their disappearance may at first seem baffling, but the owners of the "Tamworth Five" say it will help their civil case, as it means that the dog-sitter's explanation – that the dogs ran away – hasn't been accepted in a legal setting.
Mrs Lawford's legal representatives said she had also been sent anonymous death threats online.
She said she was suffering "extreme emotional and physical stress" when the dogs vanished in Tamworth in June 2019.
Latest news from the West Midlands
She had separated from her husband in March and suffered a nervous breakdown when she made the "foolish decision" to continue her dog-walking duties, the court heard.
Describing it as "a very strange case," Judge Joanna Dickens expressed frustration she could not take the disappearance of the dogs into account when sentencing Mrs Lawford.
The former dog walker, who has already had her licence revoked, admitted breaching conditions including limits on the number of dogs she boarded at any one time, boarding dogs from different homes, as well as failing to seek treatment for the dog with a skin condition.
Mrs Lawford's defence said she expressed "extreme and continuing remorse for what happened to the dogs".
"This is well-intentioned but incompetent care," her legal representative Tom Walking said.
The 49-year-old was fined £800 and banned from owning dogs for five years for breaching her licence conditions and failing to seek treatment for the dog that developed a skin condition while in her care. She must also pay costs of £2,616 and a victim surcharge of £80.
Her sentence means she will have to give up her elderly pet labrador.
Birmingham City Council welcomed the sentence, calling the case "unusual and upsetting".
"Only Mrs Lawford knows the truth of what happened to the five beloved pets placed in her care," said Vicky Allwood, the council's senior animal welfare officer.
Follow BBC West Midlands on Facebook, on Twitter, and sign up for local news updates direct to your phone
Original Source