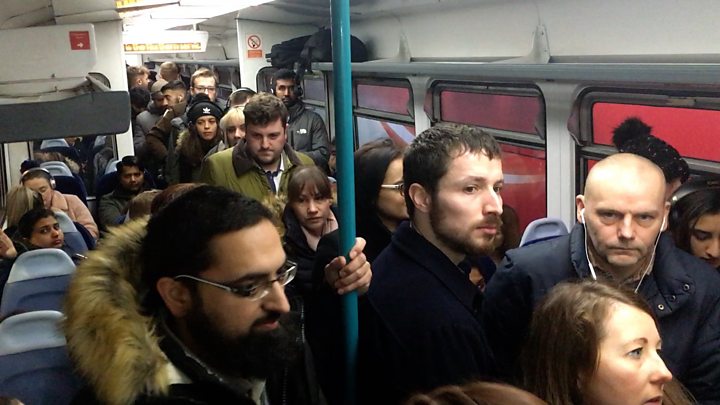 Troubled rail company Northern is to be brought under government control.
The decision, which will see the firm's franchise stripped from operator Arriva Rail North from 1 March, was taken following years of major disruption.
Transport Secretary Grant Shapps said passengers had "lost trust in the north's rail network".
Arriva said it "understood the government's decision", but problems had been largely due to "external factors" such as rail infrastructure.
Mr Shapps said: "People across the north deserve better, their communities deserve better and I am determined to achieve that."
The move means services will be operated by an arms-length public company reporting directly to the government and staffed by experienced train managers.
'Systemic failures'
Northern passengers have faced rail chaos ever since new timetables were introduced in May 2018, and punctuality and reliability problems have continued to blight the network.
Mick Whelan, general secretary of train drivers' union ASLEF, welcomed the move.
But he warned: "There won't be an immediate improvement because many of the systemic failures at Northern – the late delivery of new rolling stock, the cancellation by the Conservative government of infrastructure upgrades, trying to run a service with too few drivers – cannot be remedied overnight."
German-based Arriva had been due to run Northern until March 2025.
But Mr Shapps revealed in October he had requested a proposal from Northern to outline its plans to improve services.
The Department for Transport was then due to consider whether to hand a new, short-term contract to Arriva, or to nationalise services by putting the government-controlled Operator of Last Resort in charge.
The government previously described the delays and cancellations as "unacceptable".
What went wrong at Northern?
The company has faced a range of problems in recent years, such as widespread cancellations and delays following the introduction of new timetables.
Recent figures from Office of Rail and Road revealed how just 56% of Northern trains arrived at stations within a minute of the stated time on the timetable in the 12 months to 7 December.
That compares to an average across Britain of 65%.
The franchise has also faced challenges due to infrastructure projects, strike action and an ageing fleet of trains.
Is anyone else to blame?
Northern said external factors had made the company's plan for the network "undeliverable".
These included prolonged industrial action by the RMT, and delayed and cancelled infrastructure projects.
More than half of delays on the entire UK rail network were down to problems with the infrastructure – like signalling.
Government-owned firm Network Rail was put on a warning earlier this month for its poor service on routes in the North West and Midlands.
This is an uncomfortable moment for the government. In the end, nationalising this vast commuter network was its only option.
An agreement to change Arriva's contract (Northern's parent company) and keep the firm on board wasn't possible because a commercially, and politically, palatable deal couldn't be found.
Contingency planning for the so-called Operator of Last Resort to step in has been under way for months.
If that work has been done well, it should be a seamless change and passengers should barely notice.
What the government wants on Northern is a new performance-related train contract.
This type of contract already exists on Merseyrail and the London Overground. These two companies do well in terms of passenger satisfaction.
These contracts put less risk on the train company but offer it no financial reward if passenger numbers rise.
As one rail boss described it, this type of system will be very similar to a nationalised railway, but private companies will still have a role to play.
Northern's failure is in large part down to ancient infrastructure which struggles to cope with the high volume of trains and passengers at peak times.
Put simply, there is no silver bullet for improving our railways.
---
If you have a question about Northern, the service or the franchise let us know by completing the form below.
In some cases your question will be published, displaying your name, age and location as you provide it, unless you state otherwise. Your contact details will never be published. Please ensure you have read the terms and conditions.
If you are reading this page on the BBC News app, you will need to visit the mobile version of the BBC website to submit your question on this topic.
Original Source