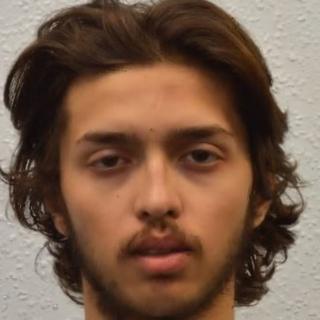 Police have been searching the hostel where the Streatham attacker is believed to have been living.
Sudesh Amman, 20, was shot dead by police on Streatham High Road after stabbing people in what police called an Islamist-related terrorist incident.
He had been released from prison about a week ago after serving half of a sentence for terror offences, and was under police surveillance.
Three people were injured but none is in a life-threatening condition.
Scotland Yard said officers were searching residential addresses in south London and Bishop's Stortford, Hertfordshire.
On Monday, officers were seen cordoning off a hostel in Streatham, where the manager said Amman had been living. He added: "I didn't have much to do with him.
"Everyone has their own rooms in there. The last time I saw him I was doing his radiator, setting up his heating on Friday. He didn't speak much."
The Met Police, whose Counter Terrorism Command officers are leading the investigation, said no arrests had been made and "inquiries continue at pace".
London Mayor Sadiq Khan said there were about "70 plus" people convicted of terrorism offences who had been released, and called for reassurances from the government they were being "properly punished and reformed".
But Prime Minister Boris Johnson said there were problems with the rehabilitation of those convicted of terrorist offences, saying: "It's very, very hard. It can happen but the instances of success are really very few, we have to be frank about that."
He said new laws would scrap automatic early release from prison for terror offenders, the "difficulty is how to apply that retrospectively" for those currently serving sentences.
How did the attack unfold?
At about 14:00 GMT on Sunday, two people were stabbed on Streatham High Road, a busy street lined with shops.
Witnesses heard gunshots as armed officers, who had been following Amman on foot, shot him dead.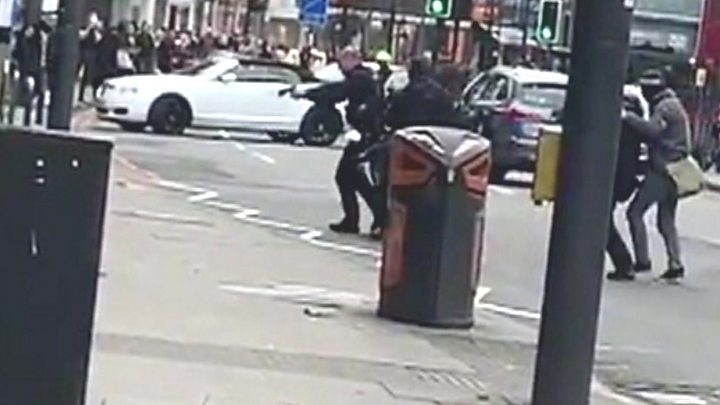 Amman had what appeared to be an explosive device strapped to his body, police said, which was later discovered to be a hoax.
Three people were taken to hospitals including the two stabbing victims – a woman in her 50s and a man in his 40s. The man was initially considered to be in a life-threatening condition, but that is no longer the case. The woman has been discharged.
Another woman in her 20s had minor injuries believed to have been caused by glass following the gun shots.
Eyewitness Dave Chawner told BBC Radio 4's Today programme he heard the shots and then turned around to see one of the stab victims lying on the floor "who was incredibly distressed".
"He was holding his lower right quadrant and there was blood everywhere. I happened to have a blanket in my bag and I gave it to them to help stem the bleeding."
Who was the attacker?
Amman was released from prison in January, after serving half of his sentence of three years and four months.
He was jailed in December 2018 after pleading guilty to terror offences.
The Islamic State group has said Amman was a "fighter" of the group. This is the wording IS commonly uses in the case of attacks in the West that the group appears to have inspired rather than orchestrated.
At the time of Amman's release, there were concerns about the danger he might pose to the public but there were no legal mechanisms to keep him in prison, said BBC political correspondent Chris Mason.
Last November, an attack near London Bridge – in which two people died – was also carried out by a man convicted of terrorism offences but who had been released mid-way through his sentence.
Streatham MP Bell Ribeiro-Addy said: "He [Amman] was under surveillance quite soon after being released which begs the question, why was he released so soon?"
Mr Khan also told BBC Breakfast: "Those that are out, I want to be reassured that the authorities have the resources and support that they need to ensure we are kept safe."
What has been the government's response?
Our correspondent Chris Mason said there was "a desperate desire" within government to be seen to be acting quickly.
Mr Johnson said on Monday the government would announce further plans for "fundamental changes to the system for dealing with those convicted of terrorism offences".
The planned changes mean automatic early release from prison will be scrapped for terror offenders, and there will be a minimum jail term of 14 years for serious terror offences.
How many other people are in prison for terror offences?
Overall there were 224 people in prison for terror-related offences in Britain at the end of September. The majority are Islamist extremists (173), and there are also 38 far-right extremists.
Currently, most people convicted of terror acts will not serve all of it in jail.
For almost all prison sentences (terror-related or not), some of the time will be spent outside jail in order to allow some rehabilitation in the community.
What issues has this attack raised?
There would be inevitable questions about the operation, said BBC home affairs correspondent Tom Symonds.
He said: "Preventing terrorism is all about taking difficult decisions. Which suspects should be watched? What level of risk do they pose and when is the best time to make an arrest, given the need to capture real evidence?
"Those decisions have become harder in recent years as would-be attackers are increasingly likely to act alone and to use low-tech weapons, sometimes on a whim."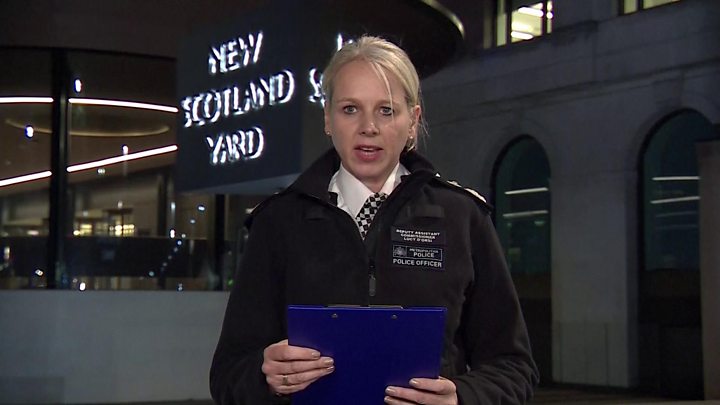 Meanwhile, former military intelligence officer Philip Ingram told BBC Radio 5 Live it was "right and proper" that the government should assess the laws in place.
"You have to ask the question as to whether some of them may not ever be able to be rehabilitated and, therefore, is the law we have at the moment right and proper to keep the public safe?"
Police are appealing for information, images and footage of the incident which can be shared via www.ukpoliceimageappeal.com or on 0800 789 321.
Do you have any information to share? Get in touch by emailing haveyoursay@bbc.co.uk.
Please include a contact number if you are willing to speak to a BBC journalist. You can also contact us in the following ways:
Original Source