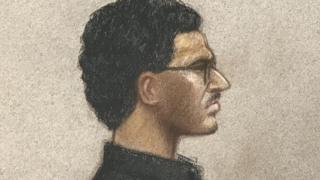 The brother of the Manchester Arena attacker was thwarted in an attempt to source an acid over fears it could be used to make explosives, a court heard.
Salman Abedi detonated a "homemade improvised explosive device" outside an Ariana Grande concert on 22 May 2017, the Old Bailey was told.
His brother Hashem Abedi is standing trial for his alleged role in the attack which killed 22 people.
The 22-year-old denies their murders and the attempted murder of others.
Hashem has also pleaded not guilty to conspiring with his brother to cause an explosion.
Amazon order
In March 2017, one friend of Hashem was asked to buy sulphuric acid on his behalf for a generator battery in Libya, prosecutor Duncan Penny QC said.
The defendant had allegedly turned to the friend – who cannot be named for legal reasons – for help because he was "skint".
Jurors heard an order for £76 worth of acid on Amazon was declined due to lack of funds.
The prosecutor said the friend then spoke to his father, explaining what he had been asked to do and seeking assistance, but his father refused and explained that "acid could be used to manufacture explosives".
The friend subsequently ignored attempts at contact by Hashem over the following days, the Old Bailey heard.
Jurors were told that days later a "friend and colleague" called Mohammed Soliman ordered 10 litres of sulphuric acid on Amazon after a series of contacts and messages with Hashem.
Mr Penny said £140 in cash was later paid into Mr Soliman's account.
Opening the prosecution on Tuesday, Mr Penny told the court Hashem was "just as guilty" of the murder of men, women and children who died in the attack.
He said the Abedi brothers spent "months" planning the attack which also injured 264 people and left 670 others with "psychological trauma".
The trial was adjourned until Thursday morning after Mr Justice Jeremy Baker told jurors the defendant said he was feeling unwell.
The judge said that after an hour of the hearing Mr Abedi told his legal team he was "feeling worse not better now and is in some pain" and would need medical attention.
Original Source