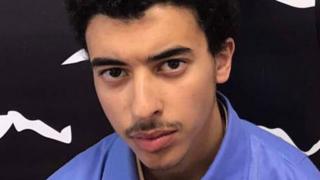 The brother of the Manchester Arena bomber said he would have told his mother had he suspected his sibling's murderous intent, a court hears.
Hashem Abedi said he had no involvement in the "instigation, preparation or commission" of the attack on 22 May 2017 that killed 22 people.
He told detectives he was "shocked" when he discovered his brother, Salman Abedi, had detonated a suicide bomb.
Hashem Abedi has denied 22 counts of murder and other charges.
Following the attack, the 22-year-old was arrested in Libya, where he claims he was tortured and held for about two years, before he was sent back to the UK for police questioning.
'Most monstrous'
Prosecutor Duncan Penny QC read a statement that Hashem Abedi gave to police in the summer, condemning his elder brother's actions.
The prosecution say Hashem Abedi was complicit in sourcing and stockpiling components for the bomb and was "just as guilty" as his brother Salman.
The Crown suggests "Hashem Abedi's connection to the events in the Arena on May 22 2017 could not be clearer".
"At all stages of this dreadful chain of events, and in all locations … his presence and his involvement with this, the most monstrous of projects, loom large," Mr Penny said.
Hashem Abedi's statement heard by jurors at the Old Bailey on Friday rejected those claims and stated: "I deny any involvement in the terrorist attack at the Manchester Arena on May 22, 2017.
"I was not involved in the instigation, preparation or commission of it.
"Had I had any idea of it I would have reported it, to my mother initially and then to other family members, to prevent it from happening.
"I was shocked my brother had done this and felt bad for everybody. I could never have envisaged that my brother had it in him to do this to innocent people."
The statement of 14 August 2019 was issued through his solicitor after he declined to answer detectives' questions, the court heard.
The former electrical installation student said he was a practising Muslim, did not hold extremist views, and had "no interest in Daesh (ISIS)".
He accepted that he had asked people to buy sulphuric acid, a key ingredient for explosives, on behalf of his brother, who told him it was for a car battery for his family in Libya.
Mr Abedi addressed the allegation he was party to buying tools to build the bomb, and nails and screws to use as shrapnel.
He stated: "I accept I was present at B&Q Stockport on the 26th of March 2017 when the items mentioned in the case summary were purchased."
He said his elder brother had told him they "were purchasing these items to do the shed up".
"I purchased some small bags of nails but [do] not recollect where from," his statement said, adding that his memory had faded in the intervening years during which time he claimed he had been held by the militia in Libya "in a very small dark cell" where he was "subjected to torture".
His statement said he was "relieved to be back in the UK" and wanted to "assist the police as much as I am able to".
Mr Penny said the jury "will wish to consider the credibility of some of the claims made in that statement, against the overall body of evidence".
Hashem Abedi denies 22 counts of murder, one count of attempted murder encompassing the injured survivors, and conspiring with his brother to cause explosions.
The trial continues.
Original Source