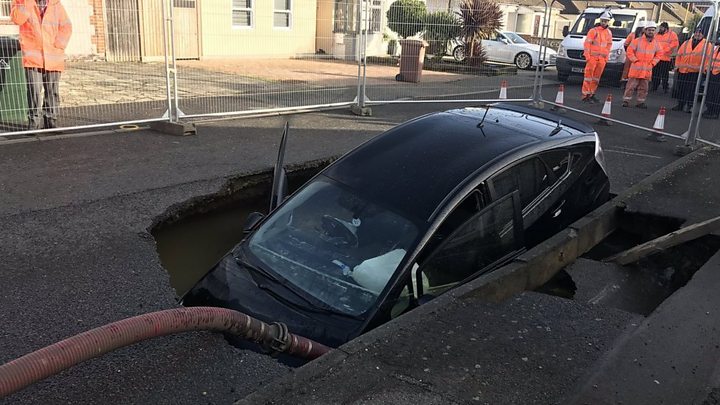 A car has fallen into a sinkhole in Essex and six homes have had to be evacuated due to "unstable ground".
The Toyota Prius became trapped in Hatch Road, Pilgrims Hatch, Brentwood, after the collapse early on Monday.
The fire service said there had been reports a sewer had partially collapsed but the exact cause of the sinkhole is not yet known.
Fire crews worked for more than two hours at the scene before handing over to Anglian Water.
Gordon Humphrey, who lives next to the sinkhole, said his wife heard a "bang" and then they saw the car.
"You could hear the water bubbling, see the tail lights and there was a smell of gas," the 60-year-old said.
It has not yet been confirmed whether the vehicle was moving at the time, or if anyone was inside.
An Anglian Water spokesman said crews were investigating, adding: "We are working with other utilities [water and gas] plus the local police to assess if any of our pipes have been damaged.
Resident Mr Humphrey said he saw someone, who he did not think was the driver, in the front of the car with water up to the seats "trying to find something".
"He said his mate was in shock," Mr Humphrey added.
Stephanie Lloyd, who also lives nearby, said she was woken at about 02:00 GMT by flashing lights from the emergency vehicles.
She said at first "all we could see was the back of that car so it look like it had been cut in half" before being told by a firefighter it was a sinkhole.
Original Source