Bernie Sanders declared victory in the New Hampshire primary on Tuesday night, with Pete Buttigieg, the former mayor of South Bend, Indiana, coming in a close second.
"Let me say that this victory here is the beginning of the end for Donald Trump," the Vermont senator said, hailing his "unprecedented grassroots movement" from coast to coast.
"It is not just about beating Trump it is about transforming this country," he said, ending his remarks with a nod to the next contests later this month. "It's on to Nevada. It's on to South Carolina. It's on to win the Democratic nomination."
With 85% of New Hampshire precincts reporting, Sanders had taken 25.8% compared with Buttigieg's 24.4%, with Senator Amy Klobuchar making a surprise surge into third place. The Massachusetts senator Elizabeth Warren appeared to place fourth, with the former vice-president Joe Biden in fifth, another disappointing result for the long-favoured frontrunner following last week's chaotic Iowa caucuses.
The results in the second Democratic presidential nominating contest of the election year did not yield a clear frontrunner among the candidates, and highlighted the divided support for presidential candidates with rival ideologies for the future of the party and a post-Trump America. While Sanders and Warren are on the furthest left flank of the party, Buttigieg, Klobuchar and Biden are more moderate.
In his speech to supporters, 38-year-old Buttigieg, who is gay and campaigns with his husband, congratulated Sanders but then offered a thinly veiled criticism of his 78-year-old competitor, saying voters should not have to choose between "revolution" and the "status quo".
"Most Americans don't see where they fit in that polarizing vision," Buttigieg said.
New Hampshire put an end to some long-shot candidacies. Businessman and political newcomer Andrew Yang had attracted a small but loyal following with his signature policy offering Americans a universal basic income, but said the numbers were not there for him to claim a path to the nomination, calling it "bitterly disappointing".
The Colorado senator Michael Bennet also ended his campaign on Tuesday night, with Deval Patrick, the former Massachusetts governor, expected to suspend his on Wednesday.
That would leave eight candidates still in the race to become the Democratic presidential candidate to take on Donald Trump in the November election. While the Democratic field once boasted an historically diverse choice of candidates, it has become more white and male as it has narrowed.
After more than a year of campaigning, hundreds of events and millions of dollars spent, the New Hampshire primary came just over a week after the Iowa Democratic caucuses, which ended in chaos over the reporting of the results. No clear single victor has been officially declared.
Speaking to her supporters on Tuesday, Warren said it had been a good night for Sanders and Buttigieg, and congratulated Klobuchar on "showing just how wrong the pundits can be when they count a woman out".
But she also highlighted that it was still early days in the race – just "two states in, with 55 states and territories to go" – and once again attempted to cast herself as the candidate who can "unite this party and this country".
After her strong performance at a televised debate on Friday, Klobuchar surged to third place, after placing fifth in Iowa, where she had devoted the majority of her resources.
"Hello America, my name is Amy Klobuchar and I will beat Donald Trump," the senator told a crowd of about 400 people in New Hampshire. "My heart is full tonight … While there are still ballots left to count, we have beaten the odds every step of the way."
Anticipating his disappointing result, Biden headed to South Carolina hours before the results were released.
His campaign is banking on strong support from black voters – who remember him fondly for his role in Obama's historic presidency – in South Carolina, which votes at the end of the month. Biden polls ahead of Sanders and Buttigieg among minority voters.
"We need to hear from Nevada and South Carolina and Super Tuesday states and beyond," said Biden, speaking to his New Hampshire supporters via a video link. "It ain't over, man. We're just getting started."
After a lackluster turnout in Iowa, the New Hampshire primary yielded much better news for Democrats.
With 90% of the estimated vote reporting, the vote tally had already surpassed 2016's 250,983, according to NBC News, and was approaching 2008's record of 288,672 voters.
Trump's 2016 win was attributed, in part, to an enthusiasm gap, with some Barack Obama voters staying home instead of voting for Hillary Clinton. After Iowa fears had mounted that Democratic voters might again be less enthused by their choices, but New Hampshire's turnout is a source of encouragement.
Trump, who faces no serious challenger for his party's nomination, easily won the New Hampshire Republican primary on Tuesday night. The president mocked the Democratic candidates, saying Warren was having a "really bad night" and asking why billionaire candidate Tom Steyer had "got only 3% of the Vote in New Hampshire" despite spending millions of dollars of his own money on his campaign.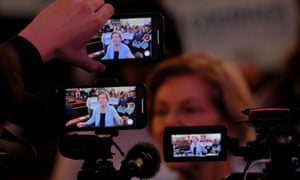 Despite Sanders' win, it was a very good night for Buttigieg and Klobuchar, who came much closer to his tally than expected. For days Democratic strategists had viewed Sanders as the heavy favourite to win New Hampshire. He won the state in 2016, beating Clinton by 22 points, or 56,838 votes.
Buttigieg has argued throughout his campaign stops that a strong showing in New Hampshire would cement his frontrunner status in the primary field.
But one person was conspicuously absent. Looming over the race was fellow candidate and former New York mayor Michael Bloomberg, a billionaire who decided to completely forgo New Hampshire and all other early primary states to instead invest heavily in the crucial set of Super Tuesday states that vote on 3 March – an unconventional and risky strategy.
Another centrist, who banked on a poor performance from Biden in the early states to validate his own decision to run for the presidency, Bloomberg's candidacy throws another curveball into the still crowded field.
Eric Goldman, a veteran Democratic strategist, said the real test in the 2020 Democratic primary contest would come in a few weeks, with the Nevada caucuses on 22 February and the South Carolina primary on the 29th.
"The big question mark that is outstanding and will be outstanding for the next couple of weeks is how any of these candidates do when black people show up to vote," Goldman said.
"The last two nominees on the Democratic side were determined in great part by how African Americans voted and I think that that is still the remaining question here."
Additional reporting: Joan E Greve, Lauren Gambino and Adam Gabbatt
Original Source