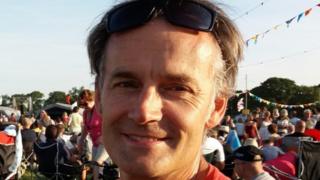 More cases of coronavirus are "highly likely" to be seen in the UK and come from overseas, says a senior health official.
Prof Paul Cosford, from Public Health England, told the BBC his teams were doing their best to contain the spread.
But given there were now a number of "countries of concern", new cases were likely to be brought in by people travelling from abroad.
A British man linked to 11 cases of coronavirus has now left hospital.
Steve Walsh, 53, from Hove, has fully recovered and poses "no risk to the public", NHS England said.
Twelve patients treated by two Brighton GPs diagnosed with coronavirus have now been contacted by health officials.
All 83 people being held in quarantine at Arrowe Park Hospital in the Wirral, after being flown back from China, are free of the virus and will be able to leave their accommodation on Thursday morning.
A total of 1,750 people have tested negative for the virus in the UK, with eight testing positive.
Prof Cosford, emeritus medical director at PHE, said the biggest risk to the UK were the efforts in mainland China, which – if they don't succeed – could mean "other countries then have widespread outbreaks of infection".
This could increase the risk of more widespread infection in the UK, he said.
Identifying people quickly, tracing close contacts at risk of infection and keeping them in isolation was the main aim.
And children did not need to be taken out of school and isolated unless "we tell them that's what is needed", Prof Cosford said.
Steve Walsh was the third case to be confirmed in the UK, following two Chinese nationals testing positive in York.
He was infected by the virus after attending a business conference in Singapore in January, and returned via France where he passed it unknowingly on to 11 other people – five of whom then returned to the UK.
Mr Walsh, 53, from Hove, who had only mild symptoms, said he was now happy to be home and feeling well.
"I want to give a big thank you to the NHS who have been great throughout, and my thoughts are with everyone around the world who continues to be affected by the virus," Mr Walsh said.
"It's good to be back with my family and I would ask you please to respect our privacy from this point on."
Brighton tracing
The two Brighton GPs with coronavirus, who stayed in the same ski chalet in France as Mr Walsh, are now in isolation.
The GP practices in Brighton where they worked have now reopened after a deep clean.
Worthing Hospital, where one of the GPs worked a shift in A&E, continues to operate as normal, a Department of Health spokeswoman said.
Patcham Nursing Home in Brighton, which was also visited by one of the GPs, is now open again to visitors.
One of the Brighton doctors has been named as Catriona Greenwood. The second GP has not been named.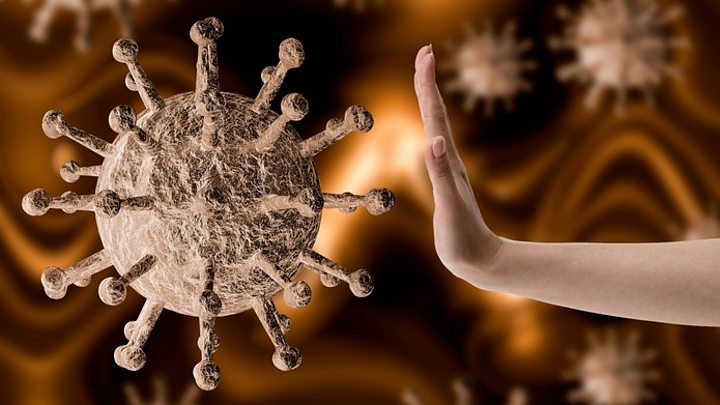 On Tuesday, the World Health Organization said the official name for the disease caused by the coronavirus is Covid-19.
Prof Neil Ferguson, infectious disease expert from Imperial College London, told the BBC that he thought new cases of the virus could still rise.
"I think we're in the early phases of a global pandemic at the moment," he said.
Prof Ferguson added it was likely that only one in three cases coming into the UK was being picked up.
But John Oxford, emeritus professor of virology at Queen Mary University London, said he thought the virus had a weakness – and people's actions could help slow transmission.
"It's not about wearing a mask – it's less of the hand-shaking, touching and kissing," he said, speaking on the Today programme.
What are the symptoms of coronavirus and what can help stop its spread?
The main signs of infection are fever (high temperature) and a cough as well as shortness of breath and breathing difficulties.
Frequent hand washing with soap or gel, avoiding close contact with people who are ill and not touching your eyes, nose and mouth with unwashed hands, can help cut the risk of infection.
Catching coughs and sneezes in a tissue, binning it and washing your hands can minimise the risk of spreading disease.
Anyone experiencing symptoms, even if mild, after travelling from mainland China, Thailand, Japan, Republic of Korea, Hong Kong, Taiwan, Singapore, Malaysia or Macau, is advised to stay indoors and call the NHS 111 phone service.
On Monday, the government issued new powers in England to keep people in quarantine to stop the virus spreading.
Under the Department of Health measures, people will not be free to leave quarantine and can be forcibly sent into isolation if they pose a threat.
The BBC understands that two prisoners on a wing at HMP Bullingdon in Oxfordshire have been tested for the virus. One of them, a remand prisoner, had recently returned to the UK from Thailand.
The overall number of infections is more than 44,000 on mainland China, with cases in more than 20 countries.
On Wednesday, around 300 employees were evacuated from Singapore's biggest bank, DBS, after one person fell ill with the virus.
The Chinese Grand Prix – which had been scheduled for 19 April in Shanghai – has been postponed as a result of the outbreak.
---
Have you been affected by any of the issues raised here? You can get in touch by emailing haveyoursay@bbc.co.uk.
Please include a contact number if you are willing to speak to a BBC journalist. You can also contact us in the following ways:
Original Source