The pound hit a new two-month high against the euro as news of Sajid Javid's resignation and Rishi Sunak's promotion was announced, hitting €1.20 for the first time since December's election.
With less than four weeks to go before the budget, the new chancellor of the exchequer declared that he was "delighted to be appointed" and there was "lots to get on with".
Sterling also rose against the dollar on Thursday, as traders decided the move meant Boris Johnson's team would have a tighter grip on the Treasury to drive through their infrastructure spending plans, as well as slashing taxes and raising borrowing. They believe it will bolster growth and make an interest rate cut less likely.
Sunak has arrived at No 11 Downing Street via public school, Oxford and Goldman Sachs – not an unusual route to one of the highest offices of state but a long way from his family's roots in India.
Rishi Sunak's grandparents had come from the Punjab and emigrated to Britain from east Africa in the 1960s.
Sunak was born in 1980 in Southampton to a father who was a family GP and a mother who ran a "tiny" chemist's shop, where he occasionally worked. He has spoken in interviews of his awareness of three identities: British, Indian and Hindu.
He was educated – and head boy – at Winchester College (motto: manners makyth man), one of the UK's seven top public schools, and went on to study philosophy, politics and economics at Oxford University, a well-trodden path into government.
He later earned an MBA from Stanford University in California, where he was a Fulbright scholar.
While at Stanford, Sunak met his wife, Akshata, the daughter of NR Narayana Murthy. An Indian billionaire, Murthy made his fortune as the co-founder of Infosys, a vast international technology firm that employs more than 240,000 staff. Sunak and Akshata Murty have two daughters.
Sunak's website highlights his role co-founding an investment firm, a reference probably to Theleme Partners, a hedge fund he helped set up in 2009.
The brief biography does not mention his previous roles, which included work as an analyst at the Wall Street investment bank Goldman Sachs and a stint at another hedge fund, the Children's Investment Fund Management. He was also a director of the investment firm Catamaran Ventures, owned by his father-in-law.
Sunak was selected as the Conservative candidate for Richmond in October 2014 after the constituency's MP, the party's former leader William Hague, stood down.
Sunak backed the UK's exit from the EU during the 2016 referendum.
When Johnson became prime minister last year, he appointed Sunak to the high-profile post of chief secretary to the Treasury. He stood in for Johnson in the seven-way televised election debate and at Christmas the Financial Times reported he was being tipped to run a new "economic super ministry" after the February reshuffle.
Despite his rapid elevation to the role of chancellor, after the surprise resignation of Sajid Javid, he narrowly misses out on being the youngest person ever to hold the position: George Osborne was 38 when he took the job; Sunak is 39.
His website is relatively light on detail but he says he enjoys keeping fit, films, cricket and football. He is a Southampton FC fan and has named one of his childhood heroes as former Saints player Matt Le Tissier.
As far his philosophy goes, he has explained: "From working in my mum's tiny chemist shop to my experience building large businesses, I have seen first-hand how politicians should support free enterprise and innovation to ensure our future prosperity."
His voting record is perhaps unsurprising for a Tory chancellor selected by Boris Johnson. He has consistently voted for reductions in spending on welfare benefits and against higher taxes on banks, such as his former employer Goldman Sachs.
Sunak has also voted for reducing capital gains tax and for more restrictions on trade union activity, according to TheyWorkForYou.com. Reducing corporation tax is another policy he has swung behind.
He appears to have got along quite well with his predecessor, judging by a tweet in which he referred to Javid as "Boss-Jedi Master" during a night out at the cinema to see Star Wars.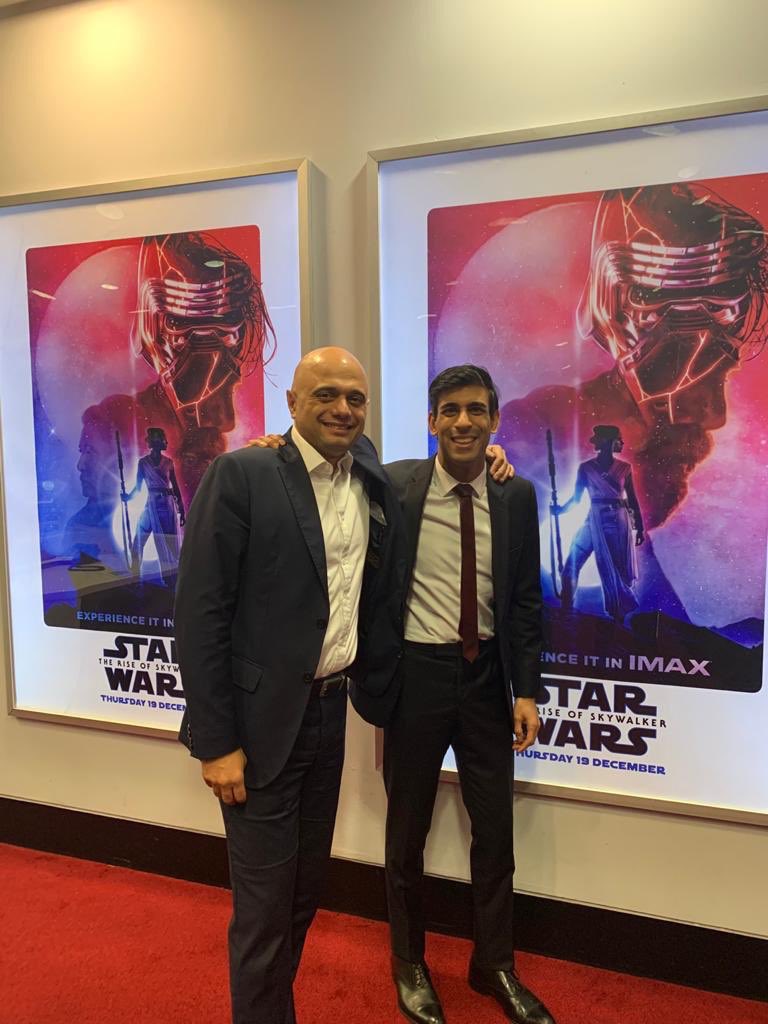 But if he does present a budget on 11 March, as Javid was scheduled to do, he will have outstripped the "Jedi master" already.
In his first tweet since his promotion, he paid tribute to Javid. He said: "My predecessor and good friend Saj did a fantastic job in his time at the Treasury. He was a pleasure to work with and I hope to be able to build on his great work going forward."
Original Source