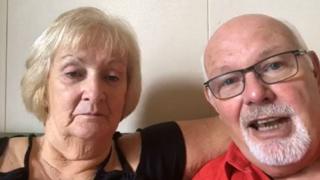 A British couple who have been on a quarantined cruise ship in Japan have tested positive for coronavirus, their son has told the BBC.
Sally and David Abel, from Northamptonshire, are among 74 British nationals on the Diamond Princess, which was quarantined on 3 February.
The UK Foreign Office said it was "working to organise a flight back to the UK" for British nationals.
An evacuation is expected to take place within the next two to three days.
Mr and Mrs Abel's son Steve told BBC Breakfast that his father had emailed him on Tuesday morning to tell him they had both tested positive and were being taken to hospital.
He said he then spoke to his mother, who was doing "OK" and "at least they were going together" and would not be separated.
However, he said subsequent posts from his father on Facebook suggested they were being taken to a hostel instead, adding "no-one knows what's going on".
He said the conditions on the ship, which is at the Japanese port of Yokohoma, had made it difficult for his father to manage his diabetes and he would prefer his parents to be quarantined in the UK "where the food is more suitable for my dad".
"I'm not actually that worried about the virus – looking at the recovery stats. It is more about the stress, the diet."
He added that the UK government's treatment of his parents had been "appalling", saying they "they haven't got back to us on anything and we have been calling them every day for four or five days".
Another British passenger on board the ship, Elaine Spencer, said she had been "very disappointed" with the UK government's initial response and they should have organised a rescue flight sooner.
She told Radio 4's Today programme that British passengers who wanted to get on the rescue flight had to sign an agreement that they would go into quarantine for 14 days on their return to the UK.
She said they had received a note from the Foreign Office which told them that if they didn't get on the flight, it was unlikely they would be allowed out of Japan.
"I need to go home, I want to see my family but obviously it's going to be another 14 days (after the flight). I wish that they'd decided to do this last week."
The US has already repatriated more than 300 of its citizens from the ship.
On Tuesday, Japanese officials said there were 88 new cases of infections on board the ship, bringing the total to 542 confirmed cases. It is the largest cluster of cases outside China.
The president of Princess Cruises, Jan Swartz, said the company has sent more doctors and nurses on board the ship.
There is still uncertainty over whether passengers will be allowed to leave the ship at the end of the 14-day quarantine period on Wednesday.
According to official figures on Monday, four Britons with confirmed coronavirus are currently in hospital in Japan.
As of Monday at 14:00 GMT, in the UK a total of 4,501 people have been tested for coronavirus. The majority have been confirmed negative, only nine are positive.
In a statement in the early hours of Tuesday morning, the Foreign Office said: "Given the conditions on board, we are working to organise a flight back to the UK for British nationals on the Diamond Princess as soon as possible.
"Our staff are contacting British nationals on board to make the necessary arrangements. We urge all those who have not yet responded to get in touch immediately."
Affected British nationals should call the British Embassy in Tokyo on +81 3 5211 1100.
Earlier, Downing Street said it was "urgently considering all options to guarantee the health and safety of those on board".
---
Have you been affected by what's happening on the Diamond Princess cruise ship? Share your experiences by emailing haveyoursay@bbc.co.uk.
Please include a contact number if you are willing to speak to a BBC journalist. You can also contact us in the following ways:
Original Source