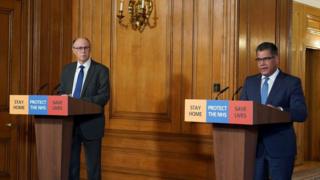 "Now is not the time to be complacent," NHS England medical director Stephen Powis has warned at the government's latest coronavirus press conference.
Prof Powis said that "every one of us has a part to play" if the UK is to keep the death toll under 20,000.
Business Secretary Alok Sharma also announced changes to insolvency rules and the NHS supply chain.
The number of people to have died with coronavirus in the UK has now reached 1,019.
Mr Sharma said insolvency rules would be changed to allow firms greater flexibility as they faced the current crisis.
He added that a range of measures to boost the supply of personal protective equipment, such as face masks, to protect frontline NHS staff are also being introduced.
"Red tape" will be reduced to allow new producers of hand sanitiser to bring products to market "in a matter of days", he said.
Prof Powis was also asked about the spread of the disease after a further 260 UK deaths in 24 hours.
He replied: "Clearly there has been a big increase in deaths today.No time for complacency, says NHS England
"If we can keep deaths below 20,000 we will have done very well in this epidemic," Prof Powis added, echoing comments from the government's chief scientific officer earlier in the month.
He continued: "It is early at the moment and the scientists who are working with the government to model what we can expect are of course adjusting their predictions now as we start to see the actuality of the epidemic in the UK, rather than what we believed might have happened a few weeks ago."
Explaining the new measures to help businesses, Mr Sharma said he hoped the changes would help firms "emerge intact the other side of the Covid-19 pandemic".
"These measures will give those firms extra time and space to weather the storm and be ready when the crisis ends whilst ensuring creditors get the best return possible in the circumstances," he said.
The new rules will allow companies undergoing restructuring to continue to get access to supplies and raw materials.
And, he said, there would be a temporary suspension of wrongful trading provisions for company directors to remove the threat of personal liability during the pandemic, which will apply retrospectively from 1 March.
Asked about how the prime minister who is self-isolating with mild symptoms having tested positive for the virus, he said he continued to lead the government's effort in combating Covid-19
"This morning he held a video conference call and he will continue to lead right from the front on this."
He added that this showed why they were asking people to follow the government advice in terms of staying at home.
Original Source