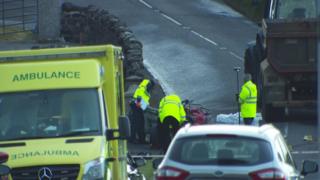 A mother and daughter have been killed in a road crash just outside Ballycastle, County Antrim.
The woman who died has been named locally as Clare Smyth. Another daughter was taken to hospital and police said she is understood to be in a critical condition.
The PSNI said a quad motorbike and a tractor collided at 16:50 BST on Tuesday on the Whitepark Road.
North Antrim MP Ian Paisley said it was an "indescribable loss".
He said the family was well-known and respected and that social distancing would make grieving particularly difficult in a rural community where everyone knows each other and would want to help.
"I think people will know that the real contact will be in our hearts and hopefully that love, and compassion and prayer will be felt and the community will be able to get around this family and help them," he said.
He said the child who was injured had been airlifted to the Royal Victoria Hospital in Belfast.
"The next 24 hours are the most critical in this little girl's life and we just hope she's able to pull through," Mr Paisley said.
Ulster Unionist councillor Joan Baird said grieving had been made more difficult by social distancing.
"That's the thing about it, because your immediate response is to try to go to them," she said.
"That's what I thought the minute I heard about this and then I remembered 'no I can't do that'.
"There'll be so many people feeling that, that they can't go and actually give them the support and help that they need so much at this time."
North Antrim MLA Jim Allister said it was "distressing" news.
"While further details are awaited it is clear a local family has been plunged into deep mourning," he added.
Sinn Féin councillor Cara McShane said news of the collision had "left people reeling".
"The community is shocked and saddened to learn of the tragic accident just one mile outside of the town," she added.
The Whitepark Road has since reopened and police have appealed for witnesses or anyone with dashcam footage to contact officers.
Original Source