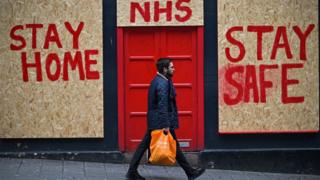 The number of people dying with coronavirus in Scotland has fallen for the third consecutive week.
Figures from the National Records of Scotland showed that 332 deaths involving the virus were registered between 11 and 17 May.
This was 83 fewer than the previous week, and brings the total number of deaths to 3,546.
There has also been a further drop in the number of people dying with Covid-19 in care homes.
The statistics showed that 184 care home deaths were recorded – 54 fewer than the previous week.
Despite the reduction, care homes continued to account for more than half of all deaths involving the virus in Scotland.
And the 1,623 deaths recorded in care homes since the start of the pandemic is now almost as high as the 1,664 deaths that have happened in Scotland's hospitals.
First Minister Nicola Sturgeon told the Scottish Parliament that the number of deaths in care homes was "still too high".
And she insisted that the wellbeing of care home residents and staff "has always been a priority and always will be a priority".
But Scottish Labour leader Richard Leonard accused Ms Sturgeon of being "in denial" about the scale of the tragedy in care homes across the country, and claimed her government had ignored warnings about the impact the pandemic would have on the sector.
Mr Leonard pointed to a report by the Common Weal think tank which he said showed the crisis was "predictable" because care services had been "left to private providers, while regulation and inspection regimes have been limited".
Where have Scotland's Covid-19 deaths occurred?
Ms Sturgeon said she would support a Labour proposal for help to be given to care workers who lose out on pay while self-isolating after testing positive for the virus.
Social care workers who have become infected and have to self-isolate currently receive £95.85 per week in statutory sick pay.
Ms Sturgeon said: "Without pointing the finger at anybody or trying to pass the buck, I do think it's really important we work with employers to make sure employers are doing the right thing and fulfilling their duties towards the staff who work for them."
The total number of deaths from all causes recorded in Scotland over the week to 17 May was 1,415 – 351 more than the average number of deaths recorded for the same week in the previous five years.
Covid-19 was the underlying cause of death in 297 of these 351 so-called "excess deaths", while 17 were caused by dementia and Alzheimer's, 16 were due to cancer and 57 were from other causes.
However, deaths from respiratory diseases were actually 11% lower than the average for this time of year.
More than three quarters (76%) of all coronavirus deaths in Scotland have been people aged 75 or over since the outbreak began.
The NRS figures are published weekly and include all fatalities registered in Scotland where Covid-19 was either confirmed as, or suspected of being, a contributing factor.
They differ from the figures given by Ms Sturgeon during her daily coronavirus briefings, which only cover confirmed cases. The number of deaths by this measure currently stands at 2,184.
The first minister said on Wednesday that 14,751 people have now tested positive for the virus in Scotland, a rise of 96 from the day before.
There are 1,443 patients in hospital with confirmed or suspected Covid-19, a decrease of four from Tuesday, and 53 people are in intensive care – six fewer than the previous day.
Separately, Public Health Scotland has published preliminary analysis which Ms Sturgeon said suggested there has not been a higher level of coronavirus cases among the country's black, Asian and minority ethnic (BAME) communities than would be expected, given the size of the population.
But she stressed that the data was "very limited" and further analysis was being carried out – particularly because of findings in England and Wales which suggested that people from BAME backgrounds were more likely to die with the virus.
Original Source