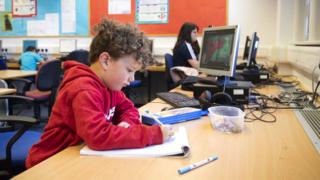 Ministers are facing pressure from councils and teaching unions to reconsider plans to reopen English primary schools to some pupils from 1 June.
At least 11 councils have expressed concerns over safety and timing.
Teaching union NASUWT said it remained "unconvinced" reopening schools was "appropriate or practicable".
Justice Secretary Robert Buckland said No 10 was taking all concerns "very seriously".
He told BBC Breakfast that 1 June was "an important date for everyone to work towards" but he said the government accepted there may be "issues" from employers that need to be addressed "which might not mean that we'll see a uniform approach".
For most pupils, schools have been closed since 20 March.
From 1 June, children in Reception, Year 1 and Year 6 in England will be able to return to school if infection rates and the government's other tests at the time allow it. England is the only UK nation to set a return date so far.
Schools in Wales will not reopen on 1 June, while those in Scotland and Northern Ireland may not restart before the summer holidays.
But on Tuesday, Calderdale Council, in West Yorkshire, followed Bury, Liverpool and Hartlepool and advised its schools against wider reopening.
Other local authorities expressed concern:
Conservative-led Solihull Council warned some school places may not be ready for the first week of June.
Manchester Council said its schools will have to "work at their own pace" to gradually increase numbers
Birmingham City Council said it may not be possible for some schools to safely open to more pupils by 1 June
Leeds City Council said it would not expect all its schools to reopen to all pupils "from day one".
Stockport Council said its schools would not open until 10 June
Slough Borough Council said schools would not welcome more pupils until 8 June at the earliest
Brighton and Hove City Council said it had advised schools only to reopen when risk assessments indicated it is "safe to do so".
A number of the 153 English local authorities have acknowledged safety concerns but have not urged all their schools to reject the proposed timeframe.
Academies have the freedom to make their own decision, unlike the two thirds of primary schools supported by local authorities.
Emma Knights, the chief executive of the National Governance Association, which advises school governors, told the BBC it would be hard for governors to ignore the position of their local authorities.
She said as councils might be legally judged the employers of school staff, governors would need a very strong reason to make a different decision.
The decision to begin reopening schools came after the reproduction, or R number – the number of people that one infected person will pass the virus on to, on average – came down across every part of the UK.
But multiple research groups, including those at the University of Cambridge, show it varies across the country – it has come down most in London but is higher in the north-east of England.
Metro mayors in the north-west of England have made an "urgent" call for the release of regional Covid-19 reproduction rate figures, saying it would help residents making "informed decisions about the risk and help decide whether they wish to take a more cautious approach to the relaxation of the lockdown rules".
Meanwhile, a survey of 29,000 members of the teachers' union NASUWT found just one in 20 thought it would be safe for more pupils to return next month.
Patrick Roach, the union's general secretary, said the government had "thus far failed to win the trust and confidence of teachers about the safety of reopening schools".
He called for all the scientific evidence from the government's Scientific Advisory Group for Emergencies (Sage) to be made available to teachers and schools as soon as possible.
On Tuesday, deputy chief scientific adviser Prof Dame Angela McLean told the No 10 briefing that an effective system for tracing new coronavirus cases needed to be in place before lockdown restrictions could be changed.
Asked whether this system will be in place by 1 June, the justice secretary said he hoped it would, but it "won't necessarily be as widespread and as full-blown as we would like".
'Acceptable level of risk'
The doctors' union, the British Medical Association, said schools should reopen "as soon as it is safe to do so", but warned "a zero-risk approach is not possible".
"This is about 'safe' being an acceptable level of risk," the BMA's Dr Peter English wrote in the Daily Telegraph.
Last week, the BMA said Covid-19 infection rates were too high for England's schools to reopen.
Attendance by primary school pupils will be voluntary and schools are reporting varied levels of interest from the parents.
Secondary schools are likely to stay closed until September but the government hopes those facing exams next year – Years 10 and 12 – will get some time in school before the summer holidays.
A Department for Education spokeswoman said: "We want children back in schools as soon as possible, because being with their teachers and friends is so important for their education and their wellbeing.
She insisted plans for the "cautious" return of some pupils from 1 June are "based on the best scientific and medical advice" and said No 10 had "engaged closely" with relevant groups including the unions, and will continue to do so.
In other developments:
---
Are you a parent or teacher? Share your views and experiences by emailing haveyoursay@bbc.co.uk.
Please include a contact number if you are willing to speak to a BBC journalist.
Original Source