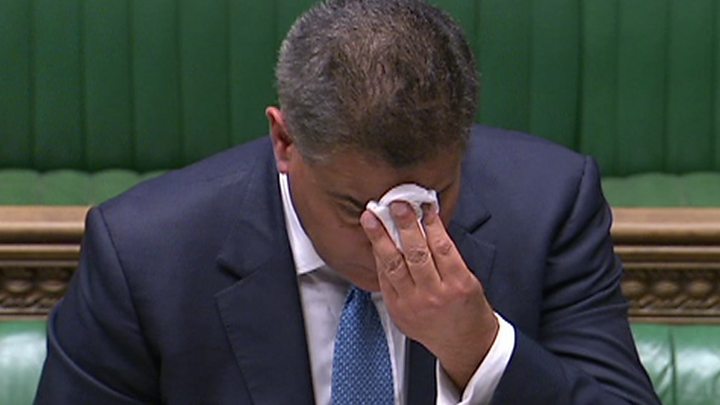 Business Secretary Alok Sharma is self-isolating at home after becoming unwell in Parliament.
Mr Sharma looked uncomfortable while taking part in a debate earlier, mopping his brow several times with his handkerchief while speaking.
A spokesman said the MP for Reading West had been tested for coronavirus and had returned home.
Mr Sharma was one of a handful of ministers to attend Tuesday's cabinet meeting in Downing Street in person.
The business secretary was in the Commons chamber for nearly an hour earlier while leading for the government on the Corporate Insolvency and Governance Bill.
Deep-cleaning
A spokesman said: "Alok Sharma began feeling unwell when in the Chamber delivering the second reading of the Corporate Insolvency and Governance Bill.
"In line with guidance he has been tested for coronavirus and is returning home to self isolate."
During the debate, Mr Sharma's opposite number, shadow business secretary Ed Miliband, passed him a glass of water at one point.
It's important to highlight that we don't know for sure whether the business secretary has coronavirus.
However, a potential case is causing real anger at Westminster.
Senior opposition figures say it shows the government was wrong to scrap a hybrid model which allowed MPs to contribute and vote remotely.
There are concerns some MPs didn't maintain social distancing rules in lengthy voting queues yesterday. Others fear they could become super spreaders, taking the virus back to their constituencies if there is an outbreak.
If Mr Sharma did test positive, anyone he had spent more than 15 minutes within two metres of would have to self-isolate for two weeks.
Mr Miliband subsequently sent his best wishes to Mr Sharma for a quick recovery.
The House of Commons authorities said "additional cleaning" had taken place, following the debate.
And the BBC's chief political correspondent Vicki Young said the MP who had sat nearest to Mr Sharma during his statement insisted that social distancing protocols had been observed throughout.
Mr Sharma was one of hundreds of MPs who queued around the building on Tuesday at two metre intervals as the Commons introduced new temporary voting procedures.
While the number of MPs permitted to sit in the chamber is still limited, many MPs are unhappy about being forced to return to Westminster, saying it poses a risk to them and their constituents.
Shadow foreign secretary Lisa Nandy said the events of the past 48 hours had shown that effective social distancing in Parliament was "impossible".
She said the government's decision to stop the largely virtual procedures in force since the middle of April, in which MPs were able to speak and vote remotely, was "reckless".
And her colleague Karl Turner said he had asked the Health and Safety Executive to conduct an urgent risk assessment of working conditions in Parliament.
He said MPs having to "huddle together" on escalators on the parliamentary estate while lining up to vote were among a number of "unsafe practices".
The HSE has the power to take enforcement action against any employers which it believes is compelling its staff to work in unsafe conditions or ignoring guidance set out by the government earlier this month.
Original Source