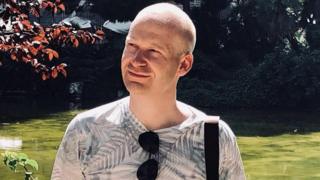 The parents of a teacher who was killed in the Reading stabbing attack have paid tribute to their "beautiful, intelligent, honest and fun" son.
James Furlong, 36, head of history and government and politics at The Holt School in Wokingham, was described by his family as a "wonderful man".
His school colleagues said he was "talented and inspirational".
Mr Furlong was one of three people who died in Saturday's attack that police are treating as a terror incident.
Two other people who were injured have subsequently been discharged, while a third remains in a stable condition under observation.
Mr Furlong was in Reading's Forbury Gardens, a park near the centre of town, when witnesses say a lone attacker with a knife targeted a group of people at about 19:00 BST.
An eyewitness described how an individual in the park "suddenly shouted some unintelligible words and went round a large group trying to stab them".
Khairi Saadallah, a 25-year-old man who lived locally, was arrested on Saturday and remains in custody.
Counter Terrorism Policing South East said a 25-year-old man from Reading, who was arrested initially on suspicion of murder on Saturday, has now been re-arrested under Section 41 of the Terrorism Act 2000.
In a statement, his parents Gary and Janet described their son as a "wonderful man".
They said: "He was the best son, brother, uncle and partner you could wish for. We are thankful for the memories he gave us all."
"We will never forget him and he will live in our hearts forever."
In their statement, The Holt School's co-heads Anne Kennedy and Katie Pearce described Mr Furlong as a "kind and gentle man" who had a "real sense of duty".
"As a Holt community, we all now need to absorb this sad news," they said. "He truly inspired everyone he taught."
As head of history and government and politics at the school, Mr Furlong's "passion for his subject" and "his dedication" was praised.
"He was determined that our students would develop a critical awareness of global issues and in doing so, become active citizens and have a voice," the head teachers said.
They said lessons would be cancelled on Monday, with counsellors available at school for staff and students.
"Words cannot describe our shock and sadness at this time. Our thoughts are with his mum, dad, brother and family, and his friends and colleagues.
"He was a cherished colleague and he will be sadly missed."
Jade Simon, a former pupil at The Holt School, remembered Mr Furlong as "an incredible teacher".
"He was funny and kind and always made history fun and entertaining," she told the Press Association.
Her thoughts were echoed by Keith Power, whose daughter currently attends the school.
"He was a wonderful man. He was so helpful and supportive of my daughter."
"It's so senseless," he added. "So much hatred in the world right now. I fear for my kid's futures."
St Francis Xavier's College in Liverpool, where Mr Furlong is reported to have grown up, paid tribute to their former pupil.
"Our prayers are with him and his family," said a statement posted by the secondary school on Instagram.
Wokingham Labour tweeted: "His loss is a devastating blow to his family, colleagues, students, the wider Holt family and our whole community. Our thoughts are with them all."
'Atrocity'
The names of the two other victims in the attack have yet to be made public.
The suspect was detained within five minutes of the first call made to the emergency services, with the Sunday Mirror reporting that a police officer "rugby tackled" the perpetrator to the ground.
It later emerged the suspect had previously come to the attention of MI5 after they received information he had aspirations to travel abroad – potentially for terrorism, according to the BBC's home affairs correspondent Dominic Casciani.
Prime Minister Boris Johnson said he was "appalled and sickened" by the attack and promised action "if there are lessons that we need to learn".
Metropolitan Police Assistant Commissioner Neil Basu, head of counter-terrorism policing, described the attack as an "atrocity" and thanked the "unarmed and incredibly brave" officers who attended the scene.
South Central Ambulance Service said "multiple ambulance resources" were sent to the scene, including five ambulance crews and a helicopter.
Mr Basu said the "motivation for this horrific act is far from certain" but said investigators were not looking for anyone else in connection with the attack.
He said the public should not be alarmed about visiting busy places as a result of this attack.
More than 40 witnesses came forward within 24 hours of the incident, which took place on a sunny afternoon in a popular area of town.
One eyewitness described a man carrying "a massive knife in his hand… at least five inches, minimum".
"The park was pretty full, a lot of people sat around drinking with friends when one lone person walked through, suddenly shouted some unintelligible words and went round a large group trying to stab them," Laurence Wort, 20, told the BBC.
Reading Borough Council leader Jason Brock said the town was "an incredibly strong community" where "people will come together and they won't allow themselves to be divided".
---
Have you been personally affected by the attack in Reading? If you feel able to do so get in touch by emailing haveyoursay@bbc.co.uk.
Please include a contact number if you are willing to speak to a BBC journalist.
Original Source