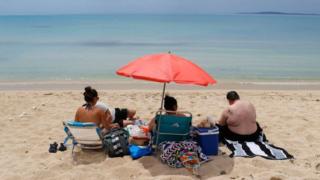 A full list of countries for which quarantine will not apply to people arriving back in England has been published.
Countries including Greece, Spain, France and Belgium are on the list, which comes into effect from 10 July.
But countries such as China, US, Sweden and Portugal are not, meaning arrivals from those have to isolate for 14 days.
Scotland and Wales are yet to decide whether to ease travel restrictions and described the changes as "shambolic".
The quarantine rules will also remain in place in Northern Ireland for visitors arriving from outside of the UK and Republic of Ireland.
The restrictions came into place in early June in a bid to stop coronavirus entering the country as the number of cases was falling.
Speaking at the Downing Street press briefing, Prime Minister Boris Johnson said: "Instead of quarantining arrivals from the whole world, we will only quarantine arrivals from those countries where the virus is sadly not under control."
People travelling from the 59 places and 14 British overseas territories on the list will not have to quarantine on arrival in England unless they have travelled through a place which is not exempt.
Passengers will still be required to provide contact information on arrival in England.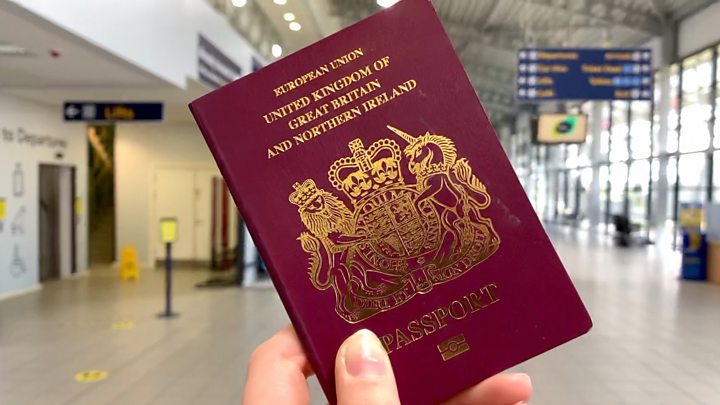 Some of those on the list include popular short-haul destinations such as Turkey and Cyprus, as well as long-haul locations including Australia, Barbados, Hong Kong, Japan, New Zealand and Vietnam.
However, some countries will require visitors to isolate on arrival or will bar them from entering at all, such as New Zealand.
The Foreign Office is expected to update its travel guidance on Saturday, including naming which countries will have a reciprocal arrangement with the UK and not require British visitors to quarantine on arrival.
A proposed traffic light system, which would have seen countries marked as red, amber or green depending on the prevalence of the virus, has been dropped, the Department for Transport confirmed.
A list of countries which will be exempt from the Foreign Office's advice against "all but essential travel" from Saturday has also been published.
The advice has been lifted for Portugal but only for the Azores and Madeira.
Portugal's Foreign Minister Augusto Santos Silva told BBC Radio 4's PM programme: "We are very disappointed with the decision of the British authorities. We think it is senseless and unfair.
"It is quite absurd the UK has seven times more cases of Covid-19 than Portugal so we think this is not the way in which allies and friends are treated."
His prime minister, António Costa, tweeted comparing the UK's number of coronavirus cases with that of the Algarve, a popular holiday destination, saying: "You are welcome to spend a safe holiday in the Algarve."
The government said information for travel into Scotland, Wales and Northern Ireland will be published in due course by the devolved administrations.
Transport Secretary Grant Shapps said finalising the list of countries had been delayed – after scrapping the quarantine was announced last week – in the hope that the four UK nations could reach a joint decision.
He said there was "still an opportunity" for Scotland, Wales and Northern Ireland to co-ordinate and therefore make the changes more simple.
But the first ministers of both Scotland and Wales have criticised the government, with Nicola Sturgeon saying Scotland could not be dragged along by the UK government's "shambolic decision making".
Welsh First Minister Mark Drakeford said the approach had been "utterly shambolic".
However, he added it was likely the Welsh government would impose the same measures as in England, provided the chief medical officer for Wales gave approval.
Mr Johnson said in a televised coronavirus briefing from Downing Street that the nations of the UK were following "very similar paths but at different speeds".
Asked if a family from Scotland could drive to England and fly out and back from an overseas country to get around different quarantine rules the prime minister said that while he knew the devolved administrations in Scotland and Wales had a "slightly different take" on it the "convoy is very much going in the same direction".
"I'm sure we'll get there together and common sense will apply."
The introduction of the quarantine on 8 June was met with criticism from the travel, tourism and hospitality industries and the easing of restrictions on arrivals from some countries has been welcomed.
A statement on behalf of airlines Ryanair, easyJet and British Airways said the move to quarantine people had been "irrational" and had seriously damaged the economy and industry.
It added the carriers wanted clarification on how countries included on the lists were selected.
Tim Alderslade, chief executive of industry body Airline UK, said the lists gave "a clear path to opening further predominantly long-haul destinations in the weeks ahead".
TUI UK and Ireland managing director Andrew Flintham said the company was pleased the government had confirmed "summer holidays are saved" and said it was a "significant step forward" for the industry.
The chief executive of Booking Holdings, which owns the brands Booking.com and Kayak.com, called for a coordinated effort from governments around the world to set out principles as to why someone can travel from one country to another.
Glenn Fogel told BBC World News current measures were "totally chaotic" but he welcomed England's announcement saying the UK is "an important part of the global tourism industry".
VisitBritain director Patricia Yates said the lifting of travel restrictions for some of the "largest and most valuable visitor markets" was a "timely boost" for the industry.
Pilots union, the British Airline Pilots Association, said it was an important first step and said it was working with authorities to make sure the return to operations would be safe for pilots, passengers and crew.
An Association of British Travel Agents (ABTA) spokeswoman said there was likely to be a strong demand for holidays and it was important people considered how this might affect their plans.
"It is especially important that customers also check the latest Foreign Office travel advice before booking, to establish if there are entry restrictions or self-isolation procedures on arrival, or any other measures they need to comply with, in the destination they are planning to visit," she said.
A High Court challenge by British Airways, easyJet and Ryanair against the government's 14-day quarantine is set to be withdrawn, their barrister Tom Hickman QC said.
Original Source